Derix in St. Louis
Recently saw this window at the St. Louis Regional Arts Commission's Cultural Resource Center. Here is the full exterior night shot.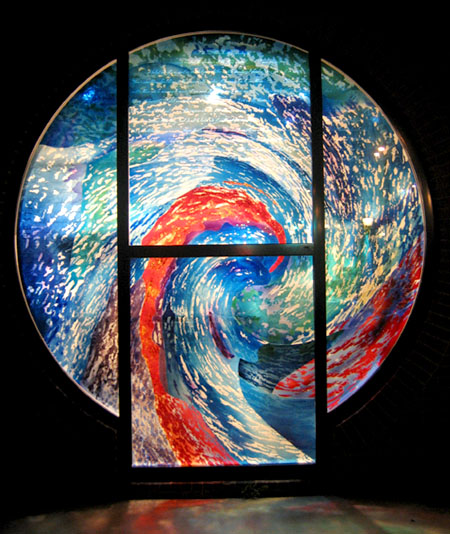 It's on the east side of the Regional Arts Commission building on Delmar in the U-City Loop in St. Louis. I must admit my first impression of this window was not positive. Granted that I had only seen it passing by in a vehicle, but I thought that it must be plastic or a cheesy non-permanent painting on glass. Basically, from a distance, this comes off as a very ordinary corporate style, status quo abstract design. (I'll try to get a daylight long shot to illustrate this...) Well, I happened to be walking past one night and got a close look at it from the outside. It's all glass and a pretty interesting piece for several reasons.
This is a closer view showing the text. The lines show the seperate pieces of glass.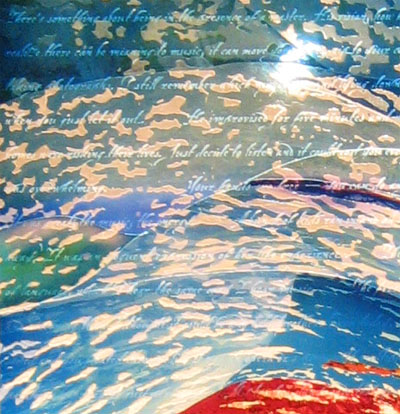 The piece is in at least three layers. The exterior layer is plate glass sandblasted with text that is not at all visible from a distance, and is barely legible up close. It's written in english, but with a hard to read cursive script. It may be more readable in daylight.
Very close at an angle to show the text most clearly.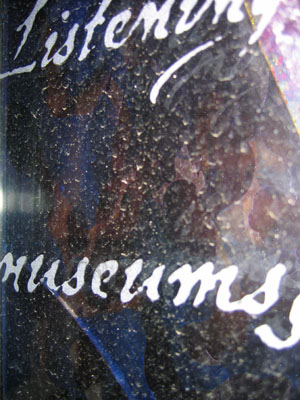 The color layers are flashed glass etched and cut and matched together in a kind of a tight puzzle. I assume it's put together with glue, though it could be fused together. The workmanship is very precise.
The details show some of the layering.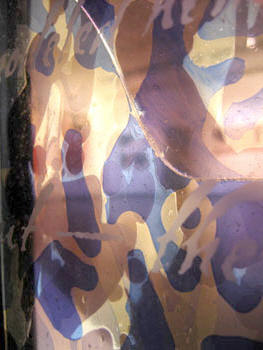 acid etched light blue and purple flashed glass - with what looks like some enamel painting, I believe.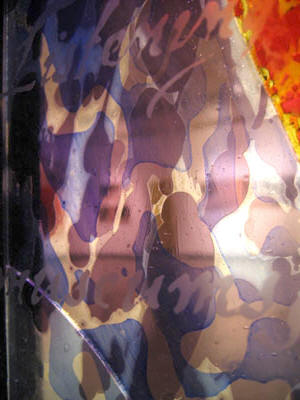 and a detail showing a more striking division of colors/glasses -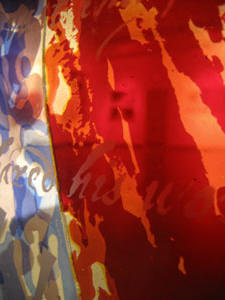 The artist is given as William M. Cochran, of Maryland. He apparently does mostly trompe l'oeil murals. The signature says it's made 'in cooperation with Derix Glasstudios'. Well, I certainly have heard of them and know they are in the forefront of developing experimental techniques on all kinds of architectural glass. Interesting that it's in St. Louis. I hear that a representative from Derix is speaking at the SGAA conference this coming month. It'll be curious to hear if this piece is mentioned.

Posted by Tom at June 10, 2005 06:56 AM