A Glass Half Empty
An interesting and entertaining article, by arts writer Waldemar Januszczak, called A glass half empty at the National Gallery's Art of Light in the TimesOnline. It's a review of the 'Art of Light: German Renaissance Stained Glass' exhibition at London's National Gallery. I should note that it's a mostly negative review of the exhibit though tempered by an enthusiastic rave about stained glass.
just one among a number of curious kernels of thought -

... His contention was that stained glass avoids the brain altogether and appeals directly to the nervous system. In other words, you canít help feeling what you feel in front of coloured glass. It doesnít matter if the artist who made it is good or bad. When light passes through glass, it does something to you.
By way of contrast, here is another, more straightforward, review of the exhibition. This one has a number of images from the exhibit...
...including this one of the Tobias and Sarah panel described by Januszczak in the TimesOnline article.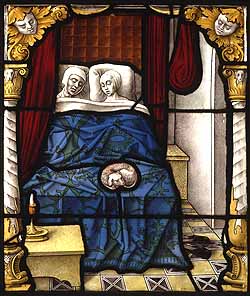 German (Lower Rhine), Tobias and Sarah on their Wedding Night, about 1520. © V&A Images/ Victoria and Albert Museum, London
And one more article, this time by Jonathan Jones in the Guardian. He muses about the limited value of showing stained glass in a museum setting. He has a point. There is nothing like natural light.
Posted by Tom at December 19, 2007 07:51 AM