Temple of Million Bottles
Buddhist temple builds refuge from refuse - article via Reuters.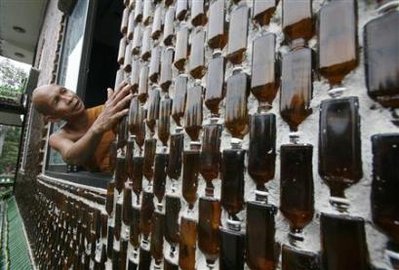 (photo by Reuters)
quote from the Reuters article -

The Wat Pa Maha Chedi Kaew temple, about 600 km (370 miles) northeast of Bangkok, is better known as "Wat Lan Kuad" or "Temple of Million Bottles" because of the glittering from countless glass containers on the walls.
Wow. I'd never heard of this before today. Make sure to check out the slideshow. The sheer volume of bottles is astonishing. I only wish I could find more backstory.
The Reuters article came out a week ago and the images seem to be racing around the environmental blogs, some with added images, such as these articles on treehugger.com and greenupgrader.com. Note that this is making a splash on the environmental blogs and not, at least initially, on any art, design or architectural blogs.

Posted by Tom at October 28, 2008 12:12 PM