Henry Holiday Stained Glass
Vic Rothman put together this montage of stained glass heads from The Church of the Holy Trinity in New York. All windows designed by Henry Holiday.
I've been to Holy Trinity and it's always a treat seeing a church that has a full program of panels by one artist, especially when it's of this caliber. I must admit that my favorite aspect of Holiday's work isn't usually the faces, but the patterning on the clothing. It's always amazingly precise and beautiful. You can see it here in this Populi Domini panel from St. Mary's, Buckland, Oxfordshire, England, via the always amazing Flickrite Lawrence OP.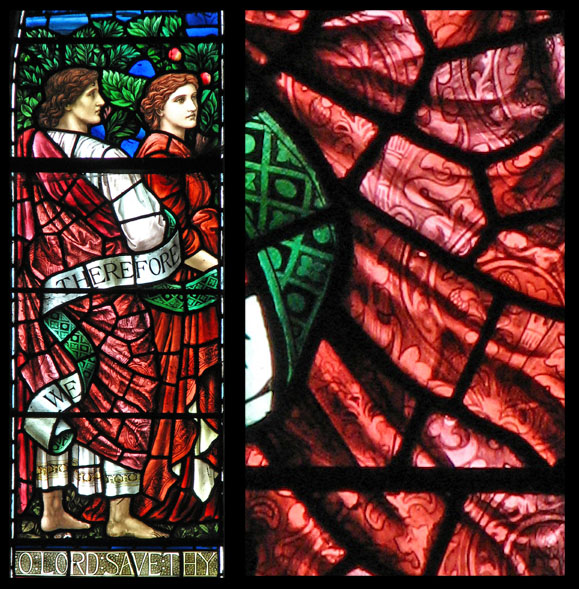 If you really like Henry Holiday's stained glass, then definitely check out his book on stained glass - Stained Glass as an Art. It's an interesting read, though he does rail on a bit too much on what he doesn't like (Munich Glass, American Opalescent Glass, stained glass done to imitate Medieval Glass, and more). The most interesting part of the book comes in seeing his designs, especially the ones showing the preliminary "Naked" cartoon, then comparing it to the "Final" cartoon, then finally to the finished window. It really demonstrates how much of a classicist Holiday was.
[update May 14, 2009 - Just the other day I found a snapshot from when I saw the window in 1986 and though it's not a great quality photo, it is just good enough for a web-based side by side comparison.
click to pop-up a larger version.


Christ the Consoler and the Seven Acts of Mercy,
East Window in the Church of St. Luke's Hospital, New York
left and center images from Henry Holiday's Stained Glass as an Art.
right image by Tom Krepcio, circa 1986.]
Of course, Henry Holiday is probably best known for another book, which Lewis Carroll wrote and Henry Holiday illustrated - The Hunting of the Snark. My favorite of the Snark illustrations is this one from my favorite chapter, or 'fit' - The Beaver's Lesson.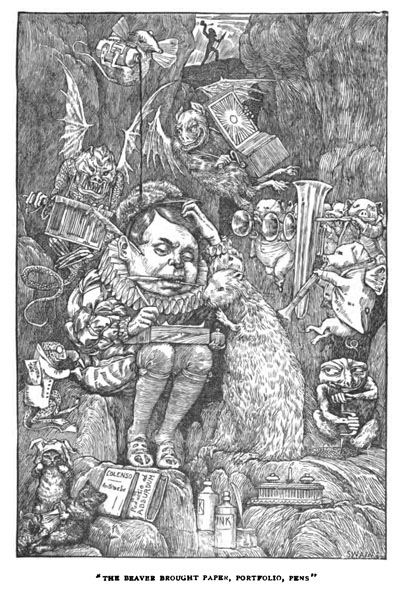 It should be noted that Holiday is generally considered the least successful of Carroll's illustrators. Holiday's classical training is seen as being a hindrance to him doing successful caricature. I like his illustrations, but I can see the point.
More info than you're likely to want to know about Hunting of the Snark on answers.com.
Posted by Tom at April 12, 2009 08:33 AM