Chagall Windows at Tudeley Church Kent UK
Tudeley Church, Kent, England
12 windows by Marc Chagall, and one of only 2 sites in Great Britain with Chagall windows.
The windows date from 1967 to 1985, the year of Chagall's death.
The Great East Window, 1967, a memorial tribute to Sarah d'Avigdor-Goldsmid.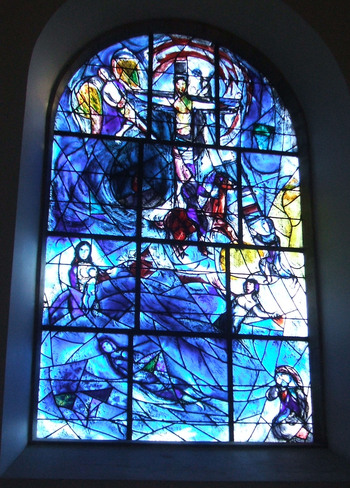 click to enlarge
photo by flickrite ruthandjohnny...
Flickr Search for 'Tudeley' + 'Chagall'.
Lots of good stuff here. Take the time to search out the details.
Here's a video tour of the church. As usual in an amatuer video, it's a bit shaky and too contrasty, but it does give some idea of the layout, and as an extra bonus (this being a group of Dowsers doing the tour) you get to know how the energy flows around the building...

Posted by Tom at June 2, 2009 11:07 AM