Sándor Nagy (1869-1950) - stained glass
From the blogger A Polar Bear's Tale, the stained glass of Sándor Nagy, Hungarian artist (1869-1950). I managed to find a brief bio, plus small galleries on his stained glass, graphic work, andpaintings.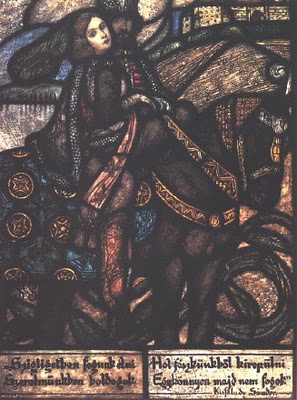 The so-called Kisfaludy glass window, 1907
Local History Collection, Gödöllő
Add his name to the group of eclectic artists all of whom were born between 1867 and 1869 and who had highly varied careers and who all made some kind of mark on the art of stained glass.
Frank Lloyd Wright, born June 8, 1867
Johan Thorn Prikker, born June 5, 1868
Charles Rennie Mackintosh, June 7, 1868
Stanisław Wyspiański, born January 15, 1869
Henri Matisse, born 31 December 1869
Sándor Nagy, born 1869

Posted by Tom at June 22, 2010 04:51 PM