Ceramic Theme & Variations by Piero Fornasetti
Every once in a while I come upon an artist I feel I should have known about for years, but have only heard about recently. Like today.
I just finished reading the article The Man Who Launched 1,000 Plates, about ceramic artist Piero Fornasetti (1913-1988), by Alice Rawsthorn, for the New York Times, November 7, 2010.
I was especially intrigued by the faces. So I did a Google search.
A screen shot of a Google search for Fornasetti, November 8, 2010
Click on image to see full size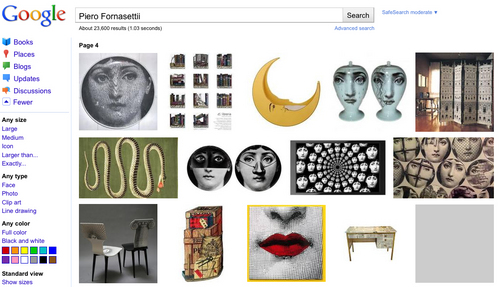 and this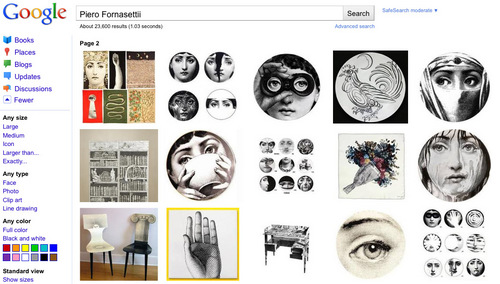 I really like the faces, officially called the "Theme and Variations", modeled loosely on Lina Cavalieri, an early 19th century Italian soprano. There are several hundred of these variations, all on ceramic plates. You can see more in detail at http://www.fornasetti.com, the official website for the Fornasetti Design shop, continued by his son Barnaba Fornasetti. There is more in there than just ceramic plates, but I think the plates are the best.
Posted by Tom at November 8, 2010 08:47 PM