St Marks Episcopal, St. Louis
About a month ago I visited St. Mark's Episcopal, the first church in St. Louis to be built in the modern style. Basically, Art Deco design. Very striking. The windows were designed by Robert Harmon and made at the Frei studios of St. Louis in 1939.
All the windows are tall and narrow with a stylized image of Christ at the top leading down to different symbols for that particular window. The colors throughout feature this nearly monochromatic shift from white to lavender to variations of middle blue. A very difficult range of colors to make work with - and here it works very well.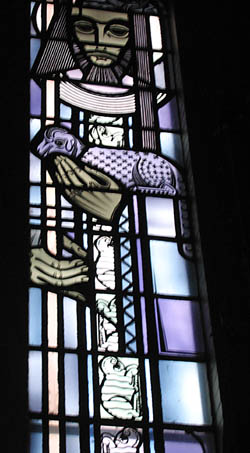 The image at the bottom of this window is something of an in joke - as the architects were named Dunn and Nagel, German for hammer and nail. The theme for the window is 'cooperatively working together'.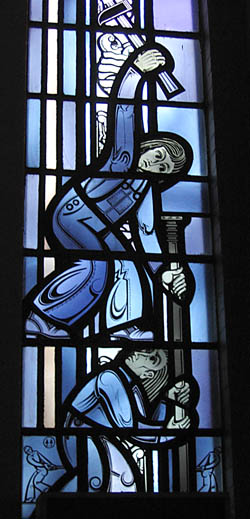 The leads are wide. The vertical lead in the upper center area of the photograph is about 1.5" wide. The majority are about 3/4" wide. Much wider than usual for stained glass. If you look closely you'll see this is the head and hand of the figure at the bottom of the Dunn and Nagel window holding the nail.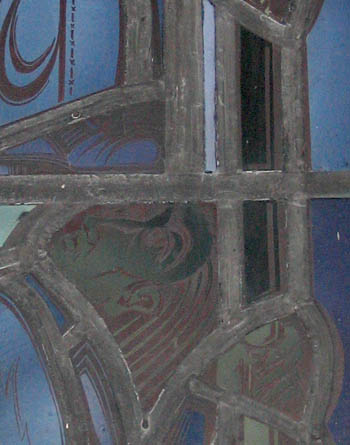 A deco lion, symbol of St. Mark.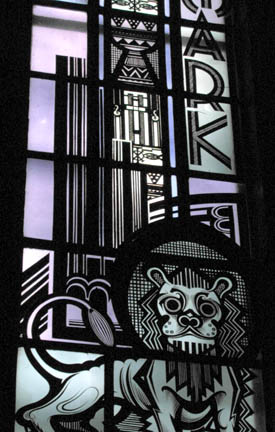 There is a strong element of social justice in these windows. The one below is sited most often with its references to labor exploitation and racial prejudice. Highly unusual in stained glass.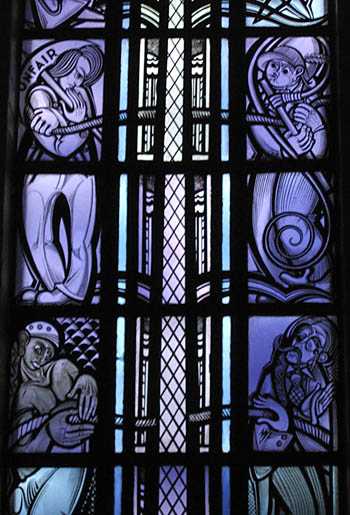 Posted by Tom at
08:54 PM