Da Vinci Drawings
My polemic for the day - I think every stained glass artist needs to have a good solid background in drawing. For that matter, I think everyone could benefit from exposure to drawing at an early age, as a fundamental means of knowing the world. I believe it to be as important to learning as reading, writing and arithmetic. By this I mean drawing not simply as artistic rendering, but as communication, scientific description and social understanding. If you're interested in this concept of drawing you couldn't start anywhere better than the drawings of Leonardo DaVinci. Simply the best of the best.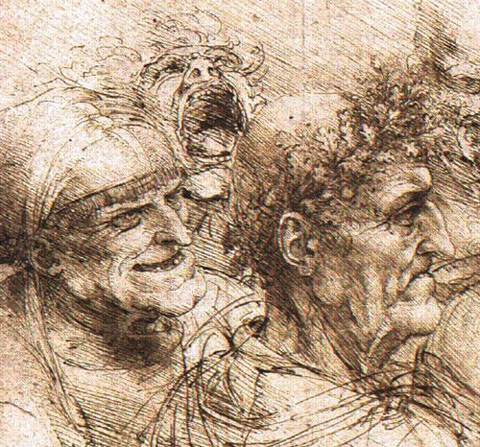 detail from "Five Characters in a Comic Scene"
link via Drawn!
Posted by Tom at
12:15 PM
Via Vitro begins
from the yahoo group "stained glass forum"
introducing Via Vitro -

...I am on a stained glass travel study with fellow beginning stained glass artist Stephane Ruault.  We are in India now following Roman trade routes and visiting villages where ancient techniques of glass fabrication are still in use in order to get an idea of what primary production may have been like back when stained glass first came into being.  We will be traveling to 8 other countries before we are home.  If you would like to follow us a bit or check in to see what we are doing, we will be writing a blog during our 8 months away...
It should be interesting to follow this in the coming months. I hope they include pictures in future posts.
Posted by Tom at
07:11 AM
New Features at Connick site
There are now links to Connick commissions at the Charles Connick Foundation website. The descriptions of how to get to the pictures through the links can be a bit confusing but it's worth the time to figure it out if you are a Connick enthusiast.
Posted by Tom at
07:15 PM