Albinas Elskus 1926-2007
A great figure in the world of stained glass has passed away.
A quick google search gave me this biography of Albinas Elskus from the Lithuanian Quarterly of Arts and Sciences. There is also some biographical information and a few images of his windows at St. Gertrude's Cemetery, The Good Shepherd Chapel-Mausoleum, New Jersey on another Lithuanian site.
To me and my generation of stained glass artists he is best known as the author of the book, The Art of Painting on Glass, originally published in 1980 and something of a bible of glass painting for the past 25 years. Certainly the "must have" stained glass book for stained glass artists of my generation. We all refer to it on occasion, for inspiration and for technical advice. It was reprinted a few years ago and yet the book is still scarce and all recent copies of it I've seen go for over $100.
my own copy...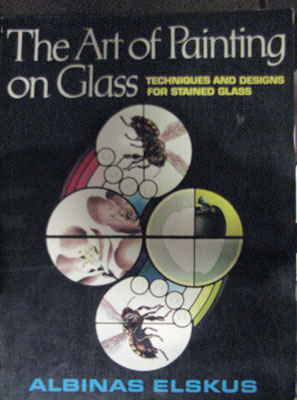 The book came out at an important time in my development as a stained glass artist. I'd been a hobbyist since I was 12. I was 20 and had just started working for my first studio in 1980 when the book was published. I had my own copy soon thereafter.
For the first few years I owned it I mainly referred to 'the book' for technical advice, i.e. what vitreous paint should I use for a warmer tone?, what enamel was best for a good strong transparent pink?, etc.
an example of the 'technical stuff' - paint swatches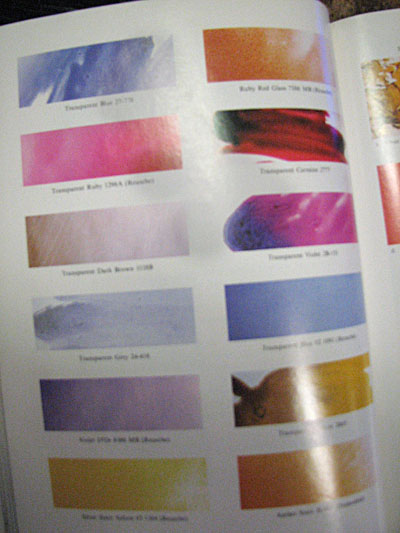 Then as time went on I was more inspired by his idea of using 'traditional' techniques in a more creative manner - along the lines of what he did to paint his most noteworthy autonomous works - the apples and the bees.
This 'signature technique' is one where he paints directly with the matting technique, no trace line involved. It is well demonstrated in his book (pages 124-127) and it involves a wet brush application of paint, finger painting to target the highlights and then some skillful badger blending to make it all come thogether - and there it is - the famous 'Albinas Apple'. 13 photographs on 3 pages and you can see the skill of the artist and the joy he took in creating his work.
examples of the 'creative' stuff - from the apple painting demo pages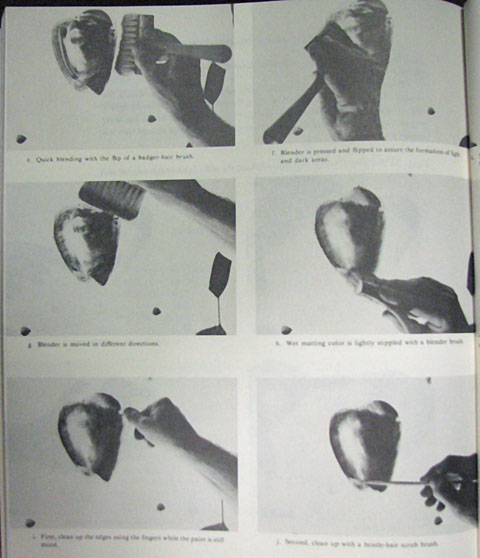 What I took from this was not so much the desire to paint in his manner so much as it instilled in me the desire to explore the breadth and depth of stained glass technique and to develop my own unique approaches, as he did. It would not be too presumptuous to state that my trying out such things as screenprinting, improvisational design, and even my foray into computer generated stained glass design all stem from this 'experimental' spirit I met with in the pages of Albinas's book.
It is a peculiar aspect of contemporary stained glass that you can admire the work of another stained glass artist without ever having seen one of their works in fact. Such is the case with my admiration for Albinas Elskus. I have never seen one of his windows live and 'in the flesh', so to speak - only through photographs. Yet even from the photographs I've seen a unique body of work that few contemporary stained glass artists have come close to.
My favorite of his windows is the 'Chaney, Schwerner, Goodman' window in Sage Chapel at Cornell University, dedicated in 1991 to the three Civil Rights Workers killed in Mississippi on a voter registration drive in 1964.
This is Albinas Elskus at his best, combining a strong simple structural design that draws attention to the painted faces of the dead Civil Rights Workers. The painting is done in his signature style with a greater emphasis on the tonal matt painting. Even with the 'decorative' surround, there is nothing 'traditional' about this and there is nothing frilly about it either. Just stark full frontal portraits, well befitting the subject matter - as in "These men died for a good cause. Remember these faces!". Social justice is a theme that is rarely tackled in stained glass design, and here it is done in a strong and direct manner, without being overbearing or didactic.
It's one of my favorite windows from the past 20 years, though I know it only from photographs.
I never formally met Albinas Elskus, though I had a chance to thank him for his work in passing when he appeared at a book signing at the SGAA conference in Boston in 2004. It was great to see him and speak those words of admiration though he was already well past his prime after having suffered a stroke in 1993. Still, because of 'the book', I do feel that I continue to be in a kind of dialogue with him - one stained glass artist/enthusiast to another.
On a final note - I've been part of casual discussions among my generational colleagues in stained glass as to who will write the next great book on stained glass painting. That is, who can one-up Albinas Elskus's book. It's a great challenge and a tall mountain to climb. Perhaps his passing will inspire someone to make the effort. I hope someone does take the challenge and I hope they make an even greater and more inspiring book and I know they will only do it because of and in honor of Albinas Elskus.
An obituary can be seen here and here.
Posted by Tom at
07:01 PM