Beware The Fabian Window... Or Not.
How does a 99 year old English stained glass window figure into American politics today? Well, of course... it doesn't.
But that is the contention of a Canadian conservative website, in two articles with the titles Barack Obama's Fabian Window, and Beware Obama's Fabian Window.
I hesitate to link to these articles since they are so much a part of the nonsensical, conspiracy prone, knee-jerk conservatism that is running rampant at the moment, and to point to them seems to give them a credence that they do not merit.
But come on... this is pretty funny. Both funny/strange and funny/haha.
Even without the crazy conspiracy types projecting Barack Obama into the mix, the Fabian Window is still an interesting panel. See for yourself. Personally, the sinister conspiracy alludes me.
The Fabian Window, circa 1910
Designed by George Bernard Shaw
Fabricated by Caroline Townshend
click on the picture to see a larger image, in a separate window -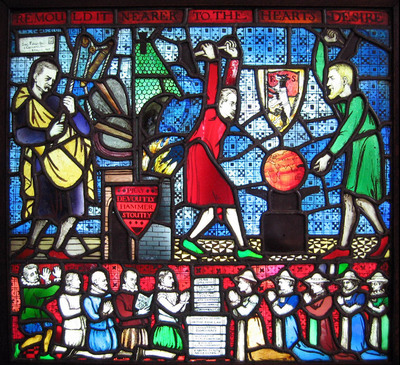 photo by flickrites Ruth and Dave
From April 2006, a BBC news magazine article called, Wit, wisdom and windows, on the unveiling of the Fabian window at the London School of Economics, where it now resides.
This is a listing of the people depicted in the window, from the London School of Economics web page -

The first man, crouching on the left, is HG Wells, shown cocking a snook at the others, after a disagreement with fellow Fabians. He is followed by the actor-manager Charles Charrington, Aylmer Maude (translator of Tolstoy's War and Peace), G Stirling Taylor (reading a book, New Worlds for Old), and the dentist F Lawson Dodd. The women, from left to right, are Maud Pember Reeves (mother of Amber Reeves, who bore Wells a daughter in 1909), Miss Hankin, the suffragist Miss Mabel Atkinson, Mrs Boyd Dawson, and, at the end, the artist who made the window, Caroline Townshend herself.
The stained glass artist who made it was Caroline Townshend. She is depicted in the window in the lower right corner of the. Here is a blog post about some Sketches by Catherine Townshend, and a nice Flickrset of Caroline Townshend Windows by Flickrite davewebster14
Posted by Tom at
01:03 PM