QRazy Glass part 2 - Making a QR code
Since I posted about the prototype QR panel, I've been asked a number of times about how to make the QR codes. It turns out to be quite easy, though there are a few caveats to know along the way, even if you are only using them to put a QR code on your business card.
Again, this is the prototype QR panel I made last summer, with a brief description of what the QR codes link to upon scanning.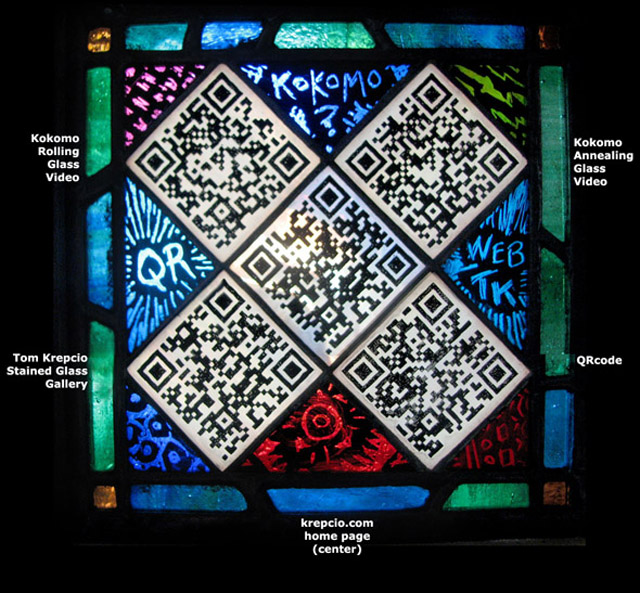 There are many methods for making QR codes. You can buy stand alone barcode generator programs or plug-ins that make every barcode imaginable, but those are often unnecessarily technical and have hefty license fees to match. But if you are only making a few QR codes or only once in a while, then free online QR code generators are fine.
continued below the fold...
Rights to use the QR code
There is no license to use the QR code as it is an ISO standard. Though one company officially owns the patent for the QR code, the technology is freely usable by any company or individual.
For details see the DENSO WAVE QR Code Patent FAQ.
To use the word " QR Code" in your publications or web site, etc, please indicate a sentence QR Code is registered trademark of DENSO WAVE INCORPORATED.
This does not apply to any use of the image of a QR code, only when the QR code technology is being written about.
Content is King
I know this seems obvious, but before you go to create your QR code, think really hard about what data/content you wish to bring up with the QR code. The data contained within a QR code can be plain text, but is most commonly a web address. Qr codes can also scan data directly into your contacts program, or open up a Youtube video, or take you to a map where you can easily map out directions from your current location to the 'QR' location.
The QR code is very versatile, but has to be attached to content that adds value. Something that makes it worthwile for the end user to go through the extra effort of scanning the code.
Online QR Code Generators
Top 10 Free Online QR Code Generators, from the website freenuts.com
This gives a good overview of different online QR generators. I haven't tried all of these, but the ones I have tried are all okay.
For simple QR codes scanning to a URL (web address), then Red Laser or Kaywa are fine. For more options, I find that the creator of Qrafter, Kere Marken, has the best online QR code generator.
These online generators bring up an image which you can download. Some will offer a code that can be put in a website, but I'm a graphics guy, so I only use the images.
Data Equals Detail
One thing to remember in generating a QR code is that the more data to be encoded, the smaller and more detailed the squares in the QR code. QR codes with more detail need to be larger so that phones can read them without error. Example - a plain text QR code with 366 characters of text versus one with 13 characters of text. The difference is striking.
QR code Data Content - Kokomo Glass Samples
Again, the data contained within a QR code can be plain text, Web address, contact information, Youtube video URL, map locations, GPS coordinates, and more.
For demonstration, here are a different variety of QR codes using the Kokomo Opalescent Glass Company as an example. I made the prototype panel using Kokomo Glass (for reason I'll give in QRazy Glass part 3), so I had those codes on hand.
First example - KOG Map location code on the left and, on the right, full contact info that can be scanned into your contacts program in your phone. Notice how much finer the detail is on the contact code, since there is much more information to convey.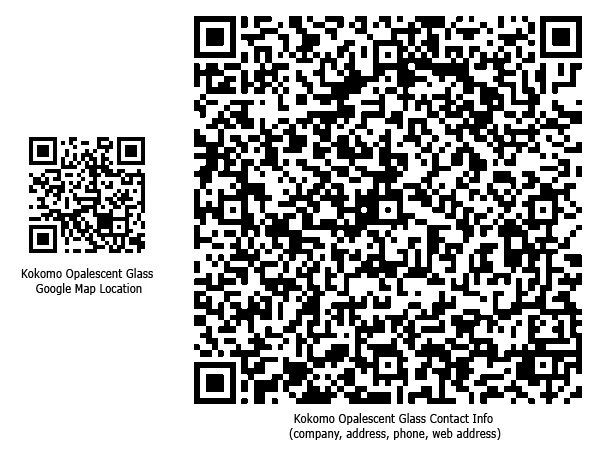 This is what it looks like once the info is read and ready to transfer to my contacts program. Contact info QR codes are among the trickier for various reasons, mostly having to do with trying to be compatible with a wide range of devices and code readers.
This reading isn't perfect, but it works okay. The categories all say 'work' and the zip code is missing, butthis it does work fine in my contacts program.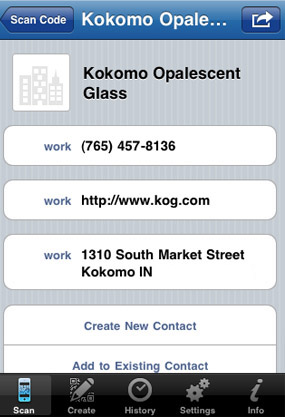 These are QR codes that link to 2 different videos on YouTube about the production of Kokomo Sheet Glass. Depending on the phone and reader these should open straight into playing the video, or with 1-2 clicks at most.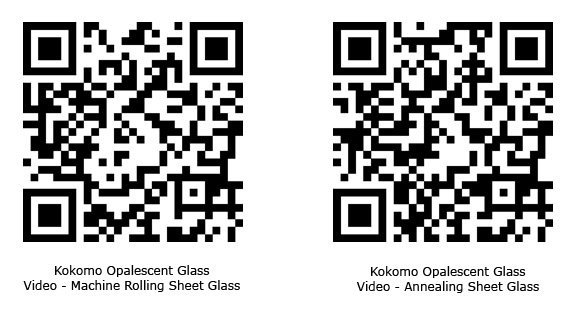 Incorporating Custom Graphics
There is a high degree of 'error correction' in a QR code, meaning that the code can be damaged to some exten and still be scannable. One creative offshoot fo this is that you can incorporate some graphics into the image and the barcode will still be scannable. It does require some trial and error and a decent knowledge of a graphics program like Photoshop.
Here is the Kokomo Glass Logo incorporated into a web address QR code.
`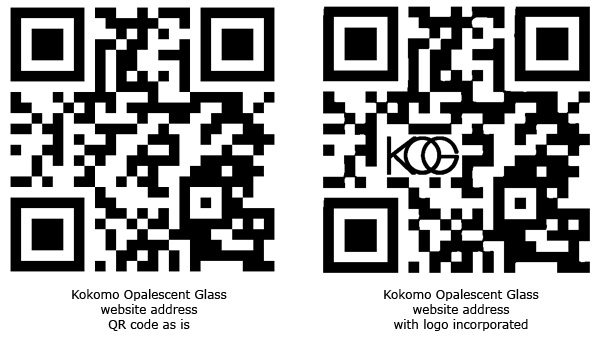 If you have any experience with the web and with computer graphics programs, creating your own QR codes should be easy. The trickiest part for me has been in figuring out what content to present in a QR code in what context.
Posted by Tom at
02:47 PM