Millenium Windows in the UK
In the 8 years since passing into the 21st century, I seem to have missed the phenomenon of the "Millenium Window".
This is something that appears to have happened (mostly) in British Commonwealth countries from around the years 1997-2004. No substantial equivalent happened in the USA or anywhere else as far as I can tell.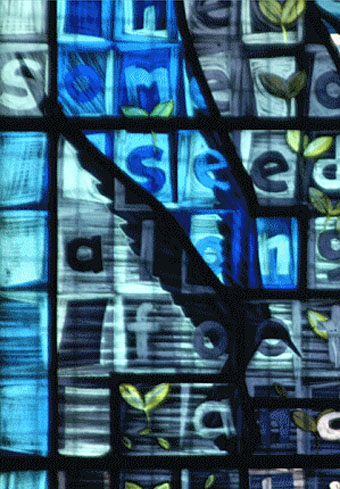 detail, Millenium Window, Glasgow Cathedral, Glasgow, Scotland. by John K Clarke - 2001
I've gathered images and info on more than a dozen Millenium Window commissions throughout the UK.
Background
The only item I found mentioning the building of things 'Millenium' is in this article called The UK Millenium Construction Boom, which mostly describes money poorly spent when funded by the Millenium Fund, an arts lottery funding project in the UK. If you go to the bottom of the page, there is a list of 10 successful (according to the journalist) Millenium commissions, including the most famous one, the London Eye, also known as the Millenium Wheel.
In looking at specific stained glass window 'Millenium' commissions, there don't appear to be any thematic similarities between the different commissions, and stylistically they are quite diverse. Yet they are all 'Millenium' windows. Some were definitely funded by a 'Millenium fund' of some sort, but others were not.
St. Paul's Church Millenium Window
I came across my first Millenium window while browsing through a Flickr set by building fan
Millenium Window, in St. Paul's Church, Birmingham, England. Made by Rachel Thomas of Holy Well Glass in Somerset.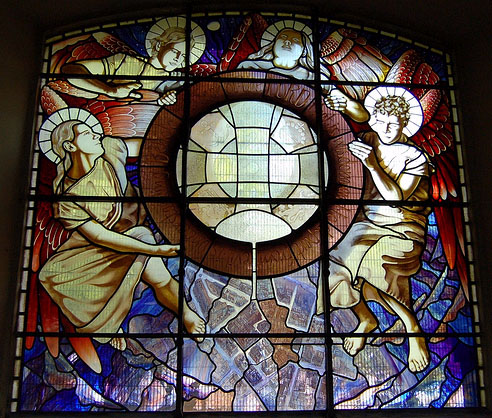 There is a little more info on Rachel Thomas from the 'award winners' page of The Worshipful Company of Glaziers and Painters of Glass website.
What caught my eye in this window is the vantage point - it's a 'Heaven's eye view', sort of the reverse of an Italianate Trompe l'oeil Ceiling . So the viewer is looking down at the angels toward the distant ground below, as seen in this detail. An interesting perspective, and one I've never seen before in stained glass.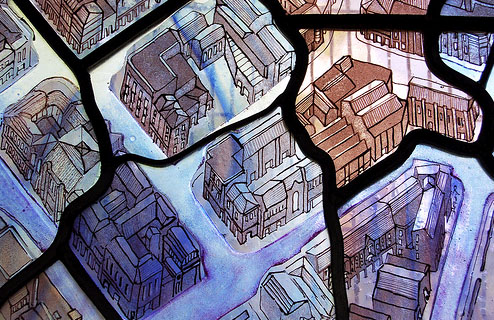 another detail - again via building fan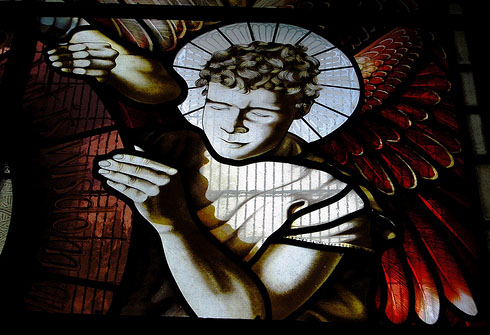 And this image is from the 'Worshipful Company' site...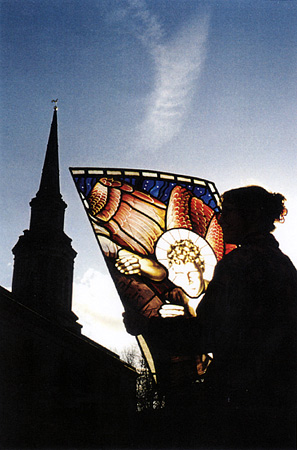 In any case, in searching for information about this commission I started coming across other Millenium Windows that were every bit as interesting, and all made in the British Commonwealth...
Glasgow Cathedral Millenium Window
I like the work of John K. Clark. I've been to Glasgow and seen his Princes Square Parrots and his fish window at Cafe Gandolfi. I've linked to him before but it has been a long time, and there is lots of new work.
and he did this fascinating Millenium Window For Glasgow Cathedral.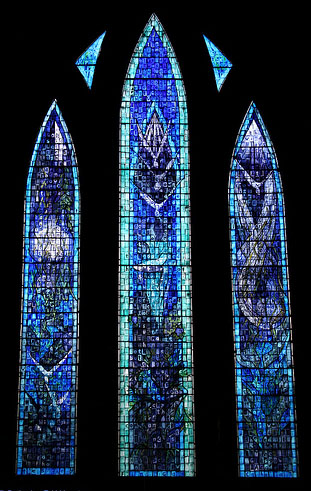 I particularly like his incorporation of text in design, a recurring theme in recent projects.
The Millenium window is a good example of that, though it's only with the closer shot that you see the text at all.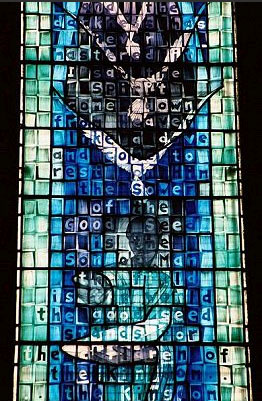 I also like how he plays with the black lines throughout, hiding the leadlines so that it melds together into a kind of undulating field of lines and colors and letter shapes.
Even closer - to see better how the text and image are interwoven.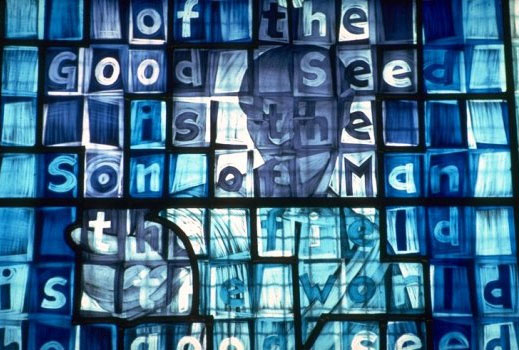 Goodrich Castle Millenium Window
A unique Millenium Window in Goodrich Castle, Hereford, Worcestershire, England.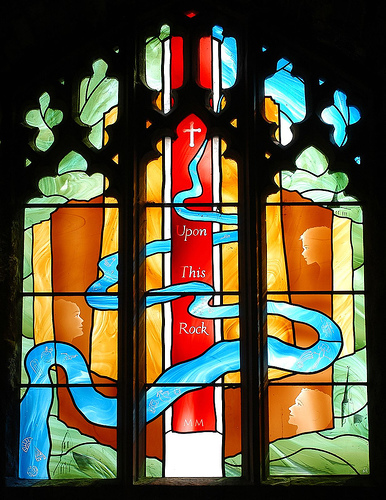 It's odd that there is stained glass at all, especially modern stained glass, seeing that all exterior pictures of the site make it look like a total ruin. but the stained glass is there in the chapel.
This is just one picture from a blogpost by Ian Grey that shows the windows in a clearer context. Exterior shot showing the Millenium window just to the left of the gateway.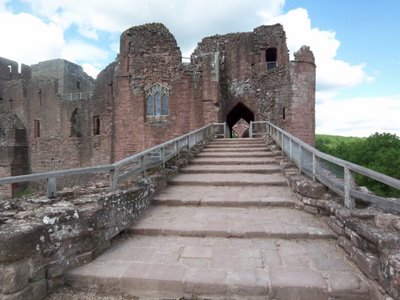 The close-up pictures show the etched detail. This and small painted details go on throughout the window.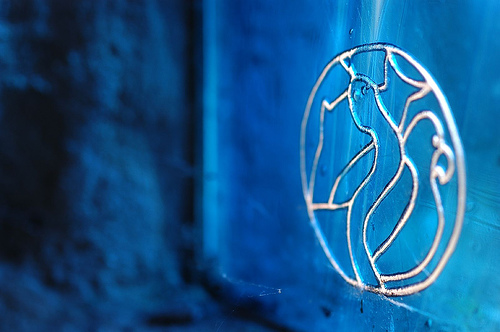 photos from the Stuart Herbert Flickr Set
Busby Parish Church Millenium window
Millenium Window, Busby Parish Church, 2000, Church of Scotland. Design/Fabrication by Cannon-Macinnes, Glasgow, Scotland. Simple and contemporary, with a wee nod to Mackintosh. I know Linda Cannon (the Cannon of Cannon/Macinnes) from when she visited Boston nearly 20 years ago. She's a smart and talented colleague and I'm glad to see her doing such nice work.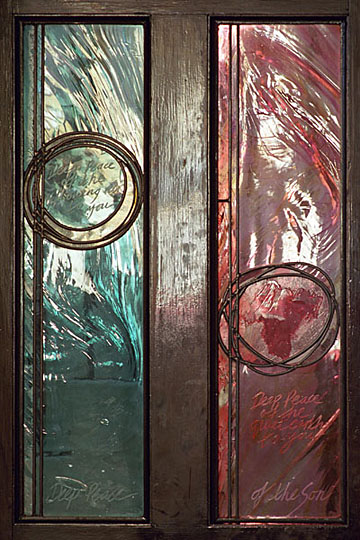 Close up showing the deep acid-etched text. Nice that it's acid-etched and not sandblasted - makes all the difference in a situation like this.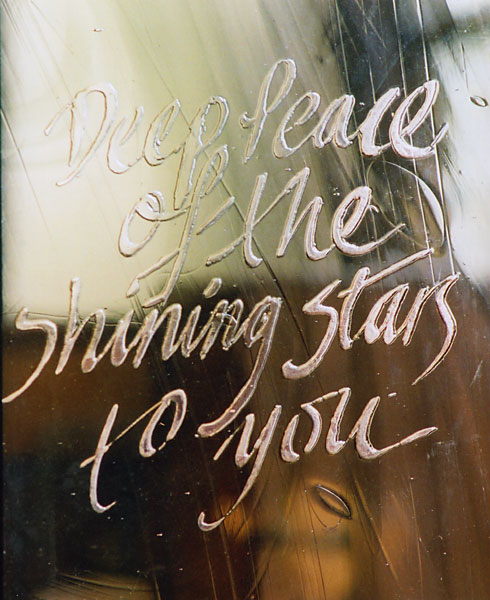 St. Mary's Church Millenium Window
Flickr page by 'TheRevSteve' showing the Millenium Window at St. Mary's Church, Little Abington, Cambridgeshire, England.
full shot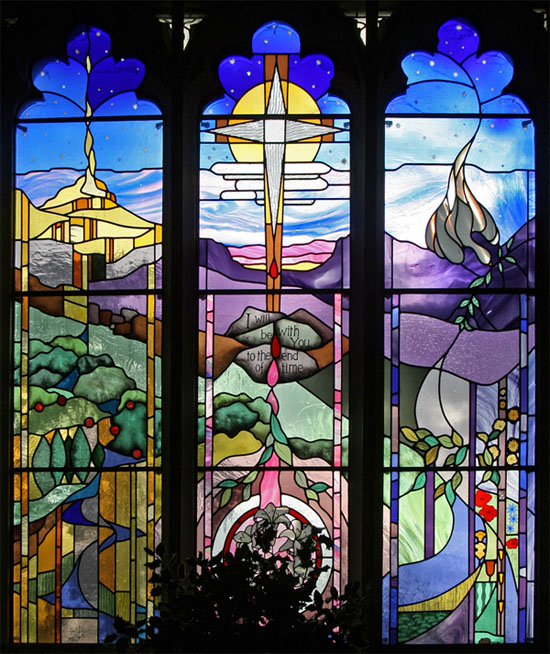 details with center text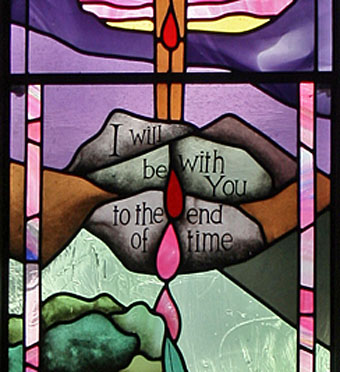 Chester Cathedral Millenium Window
Ros Grimshaw did a Millenium Window (as often referred to as the Creation Window) for Chester Cathedral.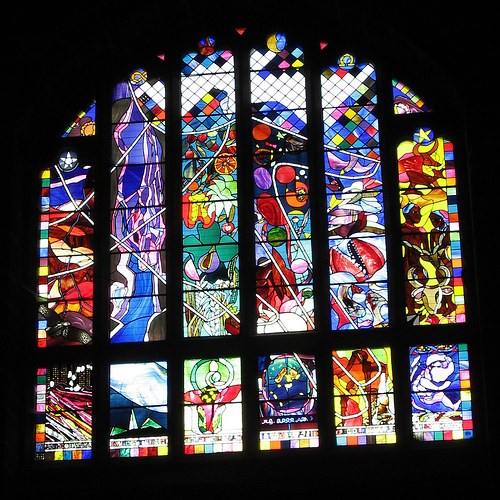 You can listen to a 10 minute BBC Radio program from 2004 on the Chester Cathedral Creation/Millenium Window. Ros Grimshaw has Parkinson's Disease and was working on this window while in hospital. I've seen images of her work in the past that is more geared toward painted design, like this from Saint Augustine's Scaynes Hill, with her windows at the bottom of the page.
Links to more Millenium Windows
Caroline Swash did an abstract Millenium Window for The Godolphine School, in Salisbury, Wiltshire, England.
Mark Cazalet did a Millenium Window, not in stained glass but in etched and engraved clear glass, for Worcester Cathedral.
Rather more conventional pictorial Millenium windows can be seen at St. Peters Church, Boughton, Monchelsea and St Mark's Parish, Dukinfield, Church St., Dukinfield, Cheshire, and another from St. Matthews, Langford, and yet another one, this time designed by the villagers in Towersey, Oxfordshire, with a better view from a Flickr page from 'Ascendingkitty'.
And finally, the most curious. The Millenium Window at St. Lawrence Church, Hatfield. This window has gained a certain notoriety from the inclusion of a tribute to local boy made good Thomas Crapper. Credited, wrongly as it turns out, with inventing the modern day flush toilet, he nevertheless founded a plumbing company, which exists to this day.
On that strange note, onward into the next millenium!
[update - just found a new English Millenium Window only to hear about it because it was destroyed by fire in March of 2008 - The Millenium Window (2000-2008) at St Nicholas's church Radford Semele, Warwickshire.]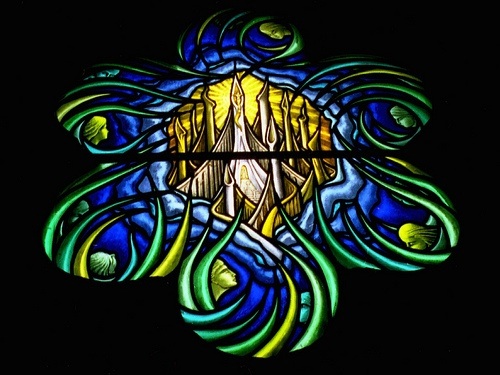 [update - April 29, 2008 - just spotted a new Flickr group devoted to Millenium Windows]
Posted by Tom at
01:11 PM