The beginning
My name is Tom Krepcio and I am a stained glass artist. This weblog is (mostly) about stained glass windows. That is to say, my perspective on this curious art/craft form. The present, the past and the future. The good, the bad, the beautiful and the just plain weird. okokok, especially the weird. More accurately, I plan to focus on topics that do not seem related to stained glass at all. And that is the point, since I feel that stained glass has limited itself in so many ways and so, well, it needs a bit of a stretch.
that is to say - Dare to be weird.
I have been working in stained glass for more than 30 years, having started as a pre-teen hobbyist in the early 70's. I have been working in the field professionally since 1980. The simplest way of grasping my personal history with stained glass is to look at my resume and the first part of my "Vitreobiography" and, of course, to look through my work on my web site. I am currently the Studio Manager at Salem Stained Glass in East Bend, North Carolina, and I still keep up with my personal work and my own commissions.
This is a self portrait (officially - "Portrait of the Artist in 1989 with Plaids and a Pencil") I did a long time ago. Some say it does not look like me, but then the drawing was from 1989... and it's more a "self caricature" than a self portrait.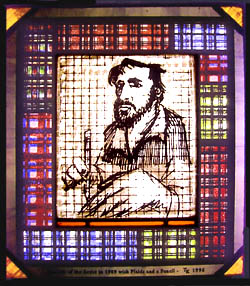 My goal for this blog is to make at least one entry per week - more if the routine kicks in. Enjoy the ride.
Posted by Tom at November 6, 2003 01:57 PM