Photo Transfer Class at Craft Alliance
Just 3 weeks away!! Spaces still available.
Here are some other screenshots of a newer method I've been developing for creating halftone screens. First, a plain dot pattern with new "layer" method (click to enlarge)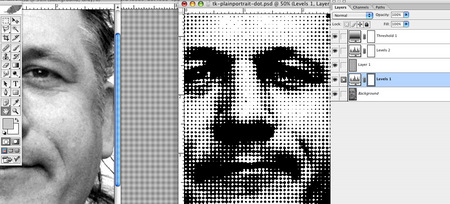 or go crazy with custom patterns (click to enlarge)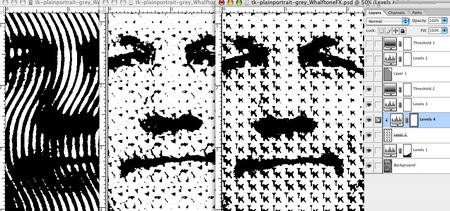 Here is an image from the Feb 2011 Photo Transfer Workshop that gives a sense of the rooms used. It is highly unusual to get this kind of hands-on workshop that accommodates both the computer work and the printing on glass work. (click to enlarge)


registration details - Photographic Images on Glass with Tom Krepcio
CRAFT ALLIANCE (http://www.craftalliance.org/)
DELMAR STUDIOS & KRANZBERG ARTS CENTER
SAINT LOUIS, MO
3104 Mar 31 - Apr 1 Sat & Sun 1-5P
Tuition: Non-Members: $150 Members: $135
Materials & Lab Fee: $30
Learn to print photographic images on to flat glass pieces.
Day 1 is in the computer lab at the Grand Center location
Day 2 is in the glass studio at the Delmar location.
First Day: You will scan photos and process them for screenprinting using Adobe Photoshop. Tom will teach you what constitutes a good image for transferring to glass, what are halftone patterns and how to create them and then make a simple Thermal screen to use on Day 2. Please bring a variety of photos. Some knowledge of Macintosh computers is desirable and some familiarity with Photoshop is helpful, but not essential.
Second Day: You will be in the Glass studio at the Delmar Location. The screens created on Saturday will be used to screen vitreous enamel paint onto glass. Methods of manipulating screened paint will also be explored. The pros and cons of alternative methods will also be discussed. Prior work with glass is helpful, but not required. All pieces will be fired and ready for pick-up 1 week after the workshop.
download a .jpg flyer (1mb) in a new window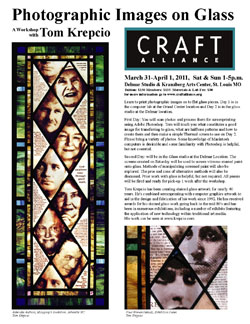 Posted by Tom at March 10, 2012 02:30 PM