April 28, 2006
Harry Clarke at Bewley's
Harry Clarke alert!!
A page linking to a video segment about the stained glass windows Harry Clarke made for Bewley's Cafe in Dublin, Ireland. The video is smallish and grainy and it features TV-news-style commentary and is therefore a bit thin on content, but it is rare to see a 6 minute TV segment on a set of stained glass windows. The 2 minute segment at the beginning is worth the effort alone just to see the series of amazingly delicious detail shots. The details were always Clarke at his best.
Not sure when the video dates from, but at the time Bewley's was set to close. Fortunately, it was saved and the place is still run as a cafe and the windows are still available to see. I've never been there but I've long dreamed of a Harry Clarke pilgrimage to Ireland. Hurry, because video links like this usually don't stay available very long.
Posted by Tom at
01:26 PM
April 16, 2006
Lafarge windows at the SLAM
I stated that I saw windows that feature custom-made pressed glass inclusions. I took some pictures recently at the St. Louis Art Museum, where there are a set of LaFarge windows originally from Boston.
Here are both windows together -
Hollyhocks on the left and peonies on the right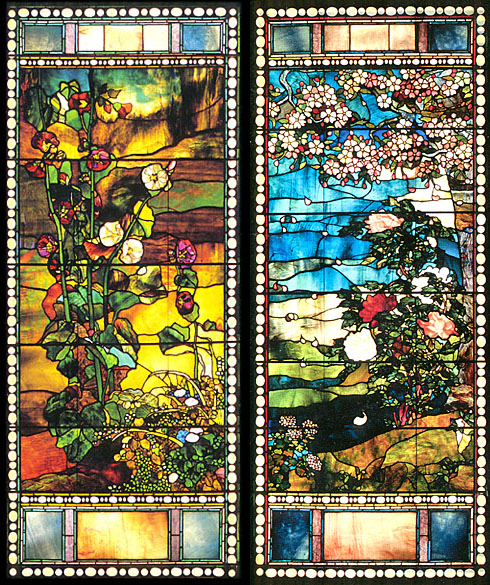 Closer in on the hollyhocks.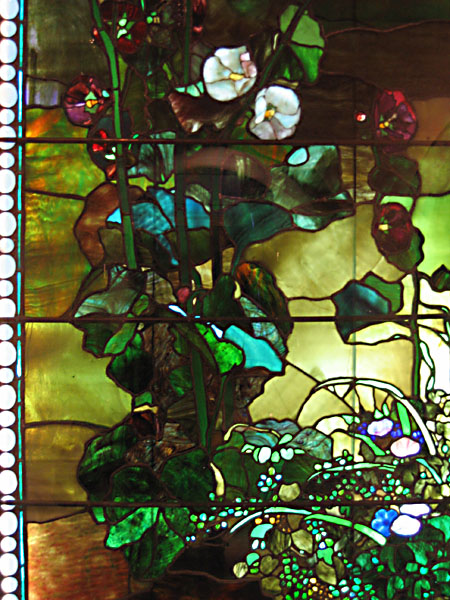 This is a pressed glass flower from lower right area of hollyhocks window.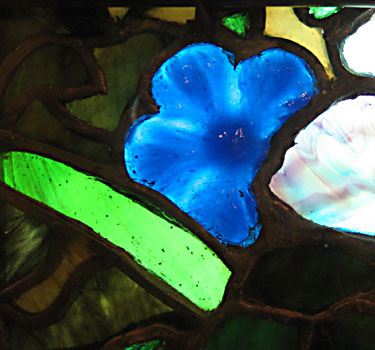 Pressed glass flower from peonies window.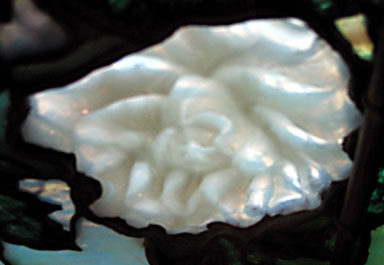 Another unique feature of the hollyhock window, a detail of a flower using no lead or copper foil - just a flow of solder between the pieces of glass.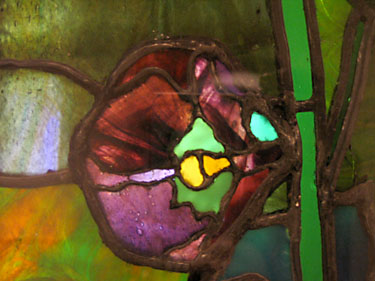 Posted by Tom at
06:41 PM
April 04, 2006
Sneak Peek v.2
Part 2 of the preparation for the G.A.S. conference demo -
Playing with pressed glass, partly because my own glassblowing skills are very limited and partly because the idea genuinely intrigues me. I like pressed glass and I have not heard of many incidents of pressed glass being made specifically for stained glass. The first attempt was a little shaky, with problems in timing and heat and technique and annealling to deal with - leading to some thermal shock and some cracked, but still usable, pieces. I'm working with some graphite that was given to me - very nice, if very messy, to work with.
This is the most interesting little bit that survived - a new 'TK' signature.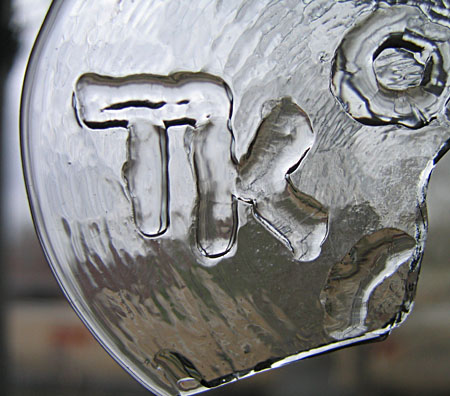 Here is the test mold on which the glass was pressed.
It's made of graphite and carved with a dremel.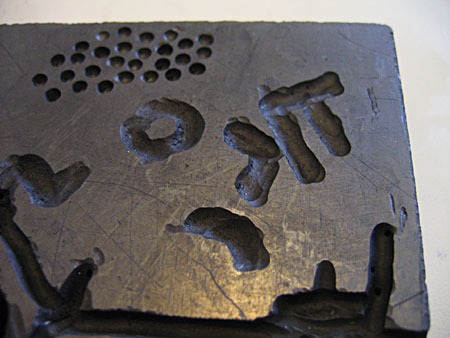 Posted by Tom at
09:29 PM