Silver Stain Roundels
Ah, the wonderful world of the stained glass roundel, painted scenes on clear glass with yellow silver stain as the only color.
A roundel depicting theTemptation of St. Anthony. German, possibly Swabia, 1532.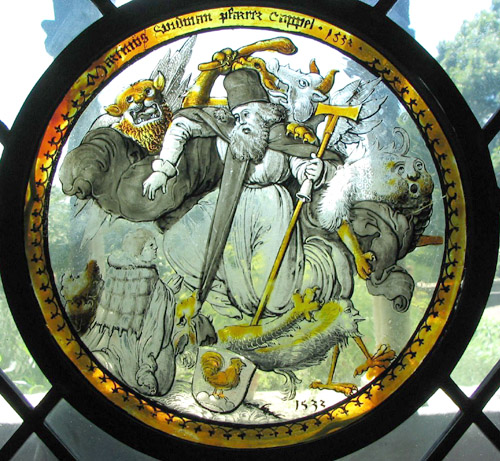 from a Cloisters flickr set by 'isefire' of a trip to The Cloisters which includes images of more than a dozen of these types of roundels. If you like that, try a general search on Flickr for 'Cloisters stained glass'. Well worth a browse.
and a closer view -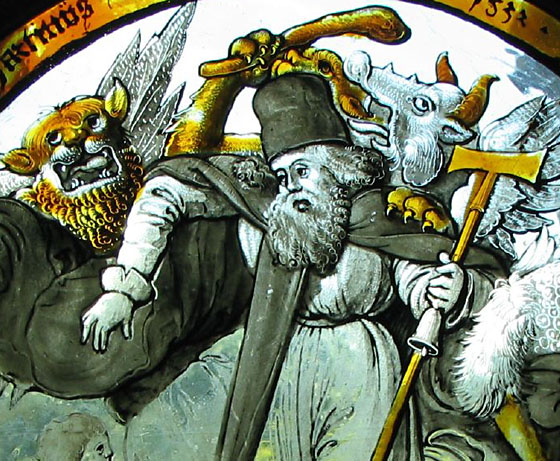 Some additional info on the phenomenon of the silver stain roundel can be seen here - Netherlandish Roundels at the Victoria and Albert Museum.
If you are interested in more specific technical information about silver stain, check out this article by Cliff Oster on The Making of Ancient Walpole Silver Stain" (pdf), from The British Society of Master Glass Painters; and then this article on Glass Colouring from the Institute for Historic Building Conservation; and finally, you can download a highly technical article called The colour of silver stained glass—analytical investigations carried out with XRF, SEM/EDX, TEM, and IBA (pdf), from the Journal of Analytical Atomic Spectrometry.

Posted by Tom at
08:42 PM