Christus natus est!
Boy, is it hard to find an unconventional Nativity window.
But, finally, I found this - the Nativity Window, designed by John Piper, and fabricated by David Wasley. It's a little hard to tell from the research, but it seems to have originally been created as an exhibition piece in the early 1980's and ended up, in the mid 1990's, residing at St. Mary's Church, Iffley in Oxfordshire, England.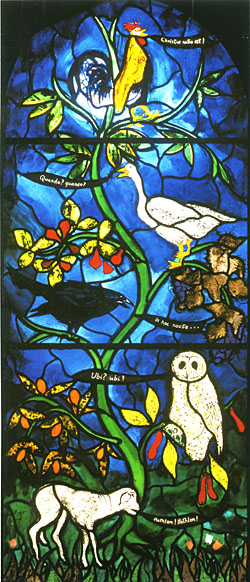 The basic idea comes from the fanciful notion that animals can speak on Christmas Eve, seeing that they were present at the birth of baby Jesus. -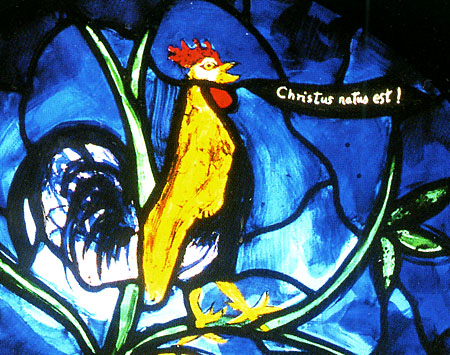 COCK - Christus natus est (Christ is born),
GOOSE - Quando? Quando? (When? When?),
CROW - In hac nocte (On this night),
OWL - Ubi? Ubi? (Where? where?),
LAMB - Bethlehem! Bethlehem!


The sounds of the Latin words resemble the noises made by the animals and birds. Underneath (not seen in this image, alas) is a line from Christopher Smart: "Let man and beast appear before him and magnify his name together."
I've liked this window if only for the highly unusual use of speech balloons in 20th century stained glass. I especially like how they actually look more like a cross between the newer speech balloon and the older speech scroll.
This window is also featured, along with several others designed by John Piper, in the book, Faith, Hope and Light. Nice book, with a diverse array of stained glass design styles.
You can see other John Piper windows in the John Piper Flickr Set by oxfordshirechurches. You can also this window as part of a Flickr Set of St. Mary's, Iffley from Flickrite and stained glass enthusiast Lawrence OP.
Posted by Tom at
11:56 PM