St. Bartholomew War Memorial Window
This is the War Memorial Window in St. Bartholomew's Anglican Church, Ottawa, Canada, by the Irish stained glass artist Wilhelmina Geddes.
On the page for the Registry of Stained Glass Windows in Canada 'Featured Windows', you can download a very good article (pdf) from Irish Arts Review 1994 by Shirley Ann Brown. This article gives the best and most complete story of the commission.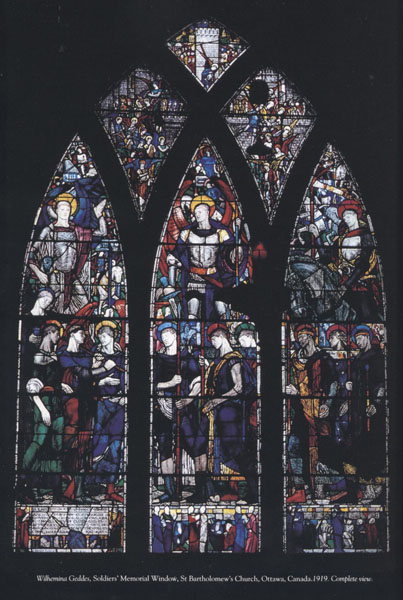 no photographer credited
photos are from the Irish Arts Review pdf, unless otherwise noted.
I could find no general biography of Geddes on the web, except for a few behind academic curtain walls. This was her only North American Commission.
I saw this window nearly 20 years ago while attending an animation festival in Ottawa and I've been trying to describe it to friends and colleagues ever since.

Unfortunately, I took only a few slides of the window, all details. I was stunned by it then and the images still resonate with me now. The initial emotional impact is strong and the sense of richness and depth in the details makes it a window that you can mull over for a very long time.
St. Bartholomew's is a small parish church and while this window dominates the east wall, the bottom of the window is at eye level and almost all of the detail is clearly visible. As I recall, the figures are not life size. Neither the St. Bart's website nor the Irish Arts Review article lists the window's size.
The St. Bart's site has a nice writeup discussing the iconography of the window. This page also has an image that gives a better sense of scale.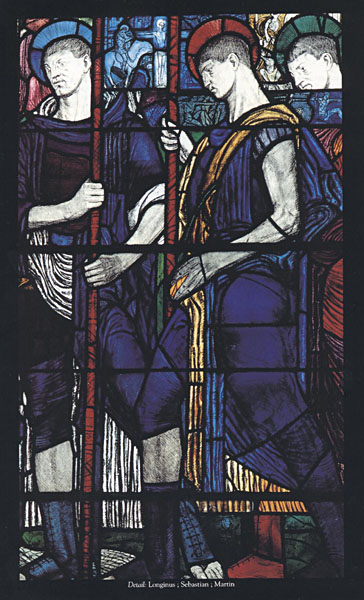 center lancet with the figures of Longinus, Sebastion and Martin

Three Figures in Each panel -
left lancet -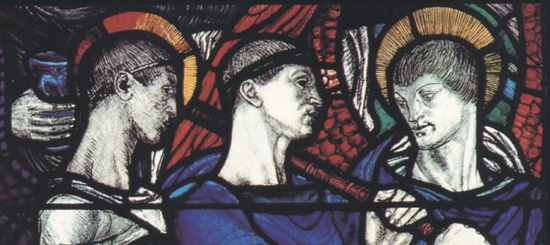 Raphael, Slain Warrior and Gabriel
Center lancet again closer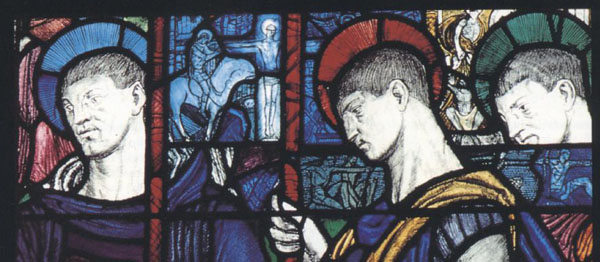 Longinus, Sebastion and Martin
Note all the small scenes happening behind and around the larger figures.
Right Lancet



Edmund, Joan of Arc and Louis
Small details from the bottom most area of the panel -
these are my photographs from my visit in the late 80's.
from this section at the lower left



I like the rough expressive quality of the painting and etching.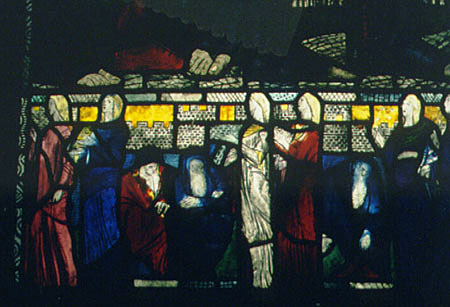 Just like me to focus on the mourners rather than the soldiers.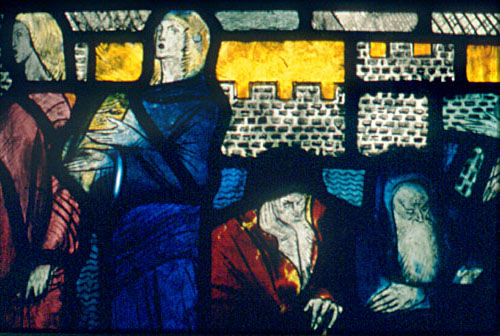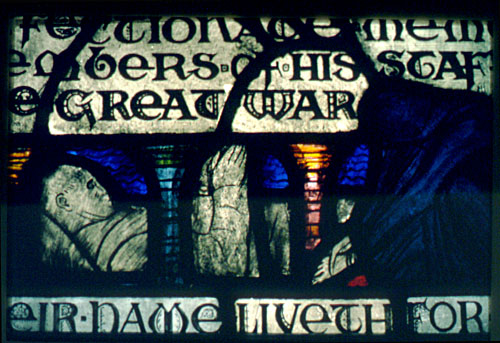 As much as I like this window, I've always had mixed feelings about war memorials. Just how do you honor the dead and those who served without honoring, and therefore perpetuating, the institution of war? Is such a thing possible?
So why then do I like this window so much? I may be reading into it or projecting my own views but I see this as expressing a more somber, as opposed to a reverential, view of war. Rough, sketchy, a bit chaotic, and certainly not sentimental. On reading the Irish Arts Review article, it would seem the window was criticized in its time, but there are no specific details given and I'm not sure if such criticism had to do with content or style - or both.
Any time I think of war memorials, this particular movie scene comes to mind - written by Paddy Chayevsky for the movie version of William Bradford Huie's "The Americanization of Emily". This is a quote from the movie, pure Paddy Chayevsy...
We shall never end wars, Mrs. Barham, by blaming it on ministers and generals, or warmongering imperialists, or all the other banal bogies. It's the rest of us who build statues to those generals and name boulevards after those ministers. The rest of us who make heroes of our dead and shrines of our battlefields. We wear our widows' weeds like nuns, Mrs. Barham, and perpetuate war by exalting its sacrifice.
It's a complex sentiment from a complex scene from a complex movie, especially when you consider it's a comedy. It's not anti-war, yet it is anti-reverence-for-war. You can see the whole scene in context on Youtube.
Finally - note that the leading expert on Wihelmina Geddes, Dr. Nicola Gordon Bowe, will be presenting a talk on Wilhelmina Geddes at the 2008 American Glass Guild Conference on August 2, 2008. I'm planning on being there and very much look forward to Dr. Bowe's presentation.
Posted by Tom at
10:03 AM