AWN Pugin: Bicentenary of God's Own Architect
March 1, 2012 is the 200th birthday of the architect Augustus Welby Northmore Pugin (1812-1852). He was a major figure in the revival of the Gothic style in Britain, and subsequently helped bring highly ornamented architectural craftwork to the forefront in the Victorian Age.
Articles on Pugin in the British press, coinciding with the bicentenary -
Pugin: the man who made the Steam Age medieval, by Christopher Howse, in The Telegraph, Feb 18 2012.
Pugin, God's architect, by Rosemary Hill, for The Guardian, Feb 24, 2012.
Rosemary Hill published a highly regarded biography called Pugin: God's Own Architect in 2007, after 15 years of research. I had only vaguely heard of Pugin, mostly through seeing big dusty books about Pugin in old libraries. But I never knew his story and certainly did not know how short his life was, or how tumultuous. From a synopsis of Hill's Pugin bio -
By the time he was 21 he had been shipwrecked, bankrupted and widowed. Nineteen years later he died, insane and disillusioned, having changed the face and the mind of British architecture...
There was recently an hour long documentary on AWN Pugin broadcast on the BBC, with writer and presenter Richard Taylor. Here is a clip, showing a brief tour of Pugin's home, The Grange -
Pugin: God's Own Architect - The Grange

I've seen enough of the documentary to know it's worth seeing the whole thing, but I doubt that the whole thing will ever make it to the US. The BBC, in it's infinite wisdom, would simply not see a market in America. It may be available for viewing online in the UK on the God's Own Architect BBC site, or maybe not. Anyway, keep an eye out for it.
If Pugin is largely forgotten in the UK, he was barely ever known in America, and only by reputation, and as much by books about him as by the few books by him. There are no buildings (or even decorative elements?) in America by AWN Pugin. At best, there is a touch of 'Puginesque" influence on US architects like Ralph Adams Cram (see Pugin in America).
Pugin's stained glass maker was John Hardman, of John Hardman & Co.. Here is a stained glass window from Pugin's house, The Grange, via flickrite bluebus. Click to expand in a new window,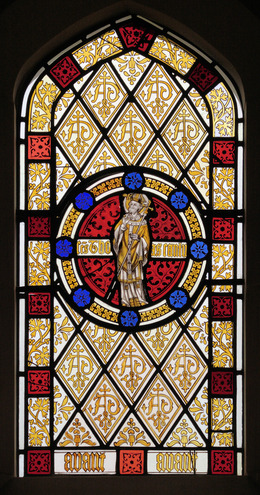 I very much like the way that Pugin's initials (AWP) are made into a decorative element in the quarries, and notice how Pugin's motto ("avant", meaning "forward") is incorporated as well. One thing that is clear from this panel, as well as the clip of the BBC documentary and the Flickr images I've seen is that Pugin was one serious militant ornamentalist. I like.
Below the fold - not much more comment, but many more links and a few other odd, assorted Pugin related video clips embedded.
Basic Links related to the Pugin Family
Augustus Welby Northmore Pugin (1812-1852) on Wikipedia.
Augustus Charles Pugin, AWN Pugin's father
EW Pugin, AWN Pugin's eldest son, who with his brother Peter Paul Pugin, carried on with the firm of Pugin and Pugin.
The Pugin Society website
Pugin Bicentenary 2012 - There are lots of links to Pugin Bicentenary events on this webpage at the Birmingham Museum Gallery website.
AWN Pugin's Books
Pugin's books are a story in themselves, and they proved to be highly influential.
These are the 3 main books written by Pugin himself.
Contrasts, his first book, self published by AWN Pugin in 1836 when he was just 24. This goes to a Google Books digitization of the 1841 edition, with additional illustrations. Very raw in its conception and execution, Contrasts comes off as a kind of architecture fanzine touting the virtues of the Medieval style over then contemporary architectural. Fascinating look at the mind of an angry young architect.
The True Principles of Pointed or Christian Architecture, 1846, by AWN Pugin
An Apology for the Revival of Christian Architecture, 1843, by AWN Pugin, from archive.org.
Various Sets of Images of AWN Pugin's work
Simon_K Flickrsite search for "Pugin stained glass"
Augustus Welby Pugin Flickr Group (84 images)
LawrenceOP Flickrsite search for "Pugin" (94 images)
Flickr Group for "John Hardman Studio"/a>
Flickr Photo of Big Ben Tower Clockface, and especially nice photo of Pugin's decorative work on the clock tower.
Miscellaneous Video clips related to AWN Pugin
Dan Cruikshank does a long and rambling tour of the British Houses of Parliament, for which Pugin did the decoration for much of the interior. Start at 6:30 for the directly Pugin-related section.

Paul Martin at Pugin's Home, The Grange, Ramsgate

Gareth Kingston on Mastermind, 2012 - Subject: Pugin

Posted by Tom at
03:41 AM