John La Farge - An Appreciation, 1911
When editing the Dec 2011 issue of the AGGnews, I was struck by this picture I got from James Yarnall. This is a photo af John La Farge in his studio. You don't see many "in studio" shots of American stained glass artists of the 19th century. I only wish this one involved a stained glass commission.
click to see larger image in new window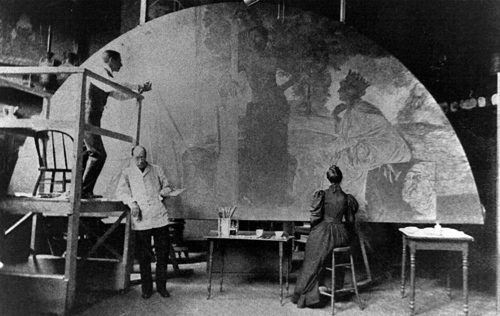 John La Farge in His Studio, 1895. From Frank Jewett Mather Jr., "John La Farge—An Appreciation, " World's Work, vol. 21 (Mar. 1911), p. 14092. Standing in a white smock, La Farge pauses while working on his mural of Athens, now in the Walker Art Building, Bowdoin College, Brunswick, Maine. The figure on the scaffolding is his son and assistant Bancel La Farge; the female figure with her back to the camera is Juliette Hanson, his chief glass painter.
The photo is from an article in the book World's Work, Volume 21 (link goes to Google Books). It's an odd volume, filled with a wide variety of articles on a wide variety of subjects. You can download a pdf of the whole volume, but be aware that it's 880 pages long.
I've extracted out the 15 page La Farge article as a pdf (La_Farge_ApprWW-1911.pdf, opens a 1.5 mb file in a new window). It's called John La Farge - An Appreciation, and it's by Frank Jewett Mather.
There is a new biography of John La Farge by James L. Yarnall, coming out just this month. It's billed as being the first biography of La Farge in a century. The book is called John La Farge, A Biographical and Critical Study. I haven't seen the book yet, but I have heard James Yarnall speak on more than one occasion and he's the best speaker I've ever heard on the subject of the life and work of John La Farge. I doubt it will disappoint.
Posted by Tom at
09:28 PM