June 29, 2012
Quite Interesting Facts about Glass
Article in The Telegraph - via @StainedGlass1
QI - Quite Interesting Facts about Glass
Quite Interesting, better known as QI, is a British television comedy/panel/quiz show that celebrates knowledge and ignorance, and everything in between. The host, the one and only Stephen Fry, will introduce a topic and the panelists are docked points for wrong answers (often featuring common factual misconceptions), and given points for bringing in true facts and observations that are 'quite interesting'.
The show topics for each season are centered around a letter of the alphabet (series 1 is "A", series 2 is "B", etc). As I write this, they just finished recording series "J".
The glass segment from Quite Interesting.
Appropriately enough, from series "G" -
QI - S07E04 - The Chinese, the teacup and glass

As my friends will tell you, I'm a pack rat for interesting facts. I can't help it. QI feeds that compulsion very neatly. Even the Telegraph article has triggered it. I feel like I should have known this, but I'd never heard of The Glass Delusion before, and it is... Quite Interesting!. I also think - could it be a good topic for a stained glass panel? Hmmm.
Posted by Tom at
06:42 AM
June 24, 2012
Recent Blog Discoveries
recent blog discoveries -
Design Decoration Craft, formerly The Textile blog. As the name suggests there are many posts on textiles, but a search for stained glass does yield some interesting results and not necessarily in the posts directly having to do with stained glass. I found the post of tapestry designs by stained glass designers like Johan Thorn Prikker and Edward Burne-Jones especially interesting, as well as the various posts on A.W.N. Pugin, including one on wallpaper designs by A.W.N. Pugin.
I heard about the textile blog from stumbling upon another blog -
Rome of the West, a blog by a photographer named Mark S. Abeln, out of St. Louis, who mainly blogs about visits to local Catholic churches. The most interesting posts at first glance - 2 separate posts featuring decorative work by Rodney Winfield. One on Photos of Chapels at the Shrine of Our Lady of the Snows, in Belleville, Illinois, and another on Photos of the Pere Marquette Gallery, at Saint Louis University. Both these sites are fairly close to me and I've never seen them. They are now officially on the list.
Posted by Tom at
11:05 AM
June 12, 2012
Charles R. Knight, Designer of Stained Glass and Inventor of Dinosaurs
Last weekend I heard a radio piece called The Man Who Invented Dinosaurs, in conjunction with the recent publication of the book, Charles R. Knight: The Artist Who Saw Through Time, by Richard Milner.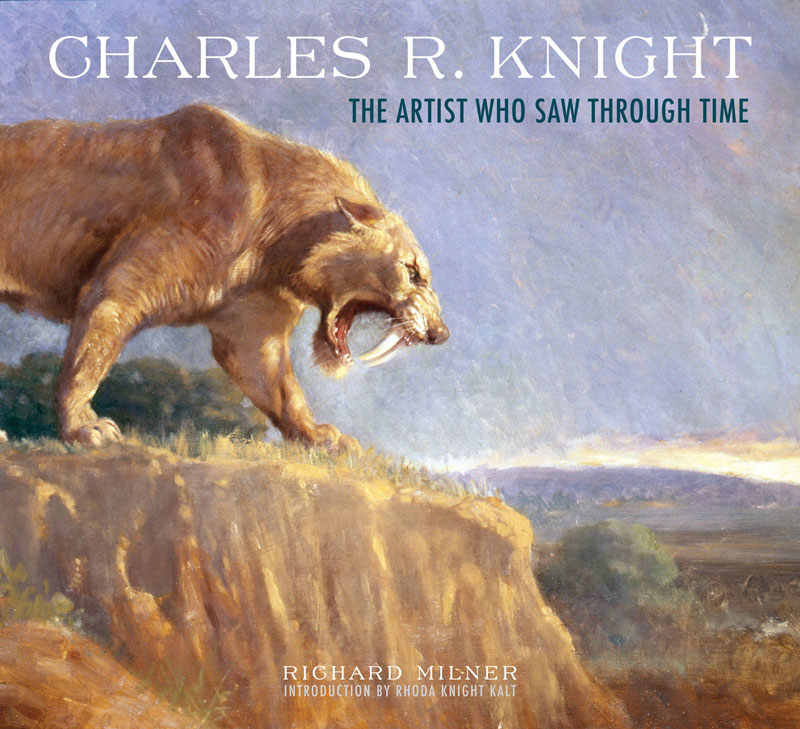 The artist is Charles R. Knight (wikipedia entry), and what was not mentioned on the radio show and what few people know, is that he worked for a short time as a stained glass designer, and most importantly, wrote a short account of that experience.
Granted, he only worked in stained glass for 2 years when he was a teenager. Nevertheless, the account he wrote of that experience is quite interesting and a worthwhile read for anyone interested in American stained glass history. His account is in Charles R. Knight: Autobiography of an Artist, with annotations by Jim Ottoviani. The chapter called Craftsman (pages 21-31) is of most interest, being an account of his 2 years working at Lamb Studio in New York, from about 1890-1892.
As far as I know, none of the design work he did for stained glass has been specifically identified and attributed to him, but seeing that he mostly did background and decorative elements, that is no big surprise. I'll update if I get more information.
Posted by Tom at
12:30 PM