November 25, 2003
Quick entry on a crazy day
As far as I know, this is the first stained glass related blog by a professional stained glass artist. For that matter, I've only seen one other blog specifically related to stained glass and that is by a hobbyist in the D.C. area - called Adventures in Dangerous Art. The blog is infrequently updated these days, but look through the archives. The writing is funny and to the point. It gives a good basic description of what it's like to be working in stained glass as a hobbyist, injuries and all. Reading it brings back quite a few memories from when I started as a hobbyist - (egad) - more than thirty years ago.
I like this diary form of blogging and hope to follow a project along 'diary style' in the future. time will tell...

Posted by Tom at
08:00 PM
November 13, 2003
A few sites of interest
One of the reasons I am interested in doing this blog is to point out sites of interest as they relate to stained glass, contemporary and historical. There are not many good sites related to stained glass and not that much really good contemporary stained glass being produced out there. All the more important to point to the good stuff when I see it on the web.
My personal interest lies in work that is both traditional and progressive. My taste in stained glass, like my work in stained glass, is stylistically eclectic. The "style" of a given work is not as important as the particular idea involved and how that idea is executed into glass.
One of the better sites for Romanesque or Gothic work is this for the 12th century windows at St. Denis in Paris. It's an academic site notable for having detailed diagrams showing what has been restored and what is original. I have spent long periods of time going through this site.
For contemporary stained glass, I like the work of and the website for John K. Clark. I think it's the variety of his work and and the quality of execution that appeals to me most.
Finally, some links related to one of the best books on stained glass to come out in the past few years, Painting on Light by Barbara Butts and Lee Hendrix. The book is also available through Amazon. Note that the Getty Museum site has a small but impressive online Exhibition for Painting on Light.
Posted by Tom at
11:11 PM
November 06, 2003
The beginning
My name is Tom Krepcio and I am a stained glass artist. This weblog is (mostly) about stained glass windows. That is to say, my perspective on this curious art/craft form. The present, the past and the future. The good, the bad, the beautiful and the just plain weird. okokok, especially the weird. More accurately, I plan to focus on topics that do not seem related to stained glass at all. And that is the point, since I feel that stained glass has limited itself in so many ways and so, well, it needs a bit of a stretch.
that is to say - Dare to be weird.
I have been working in stained glass for more than 30 years, having started as a pre-teen hobbyist in the early 70's. I have been working in the field professionally since 1980. The simplest way of grasping my personal history with stained glass is to look at my resume and the first part of my "Vitreobiography" and, of course, to look through my work on my web site. I am currently the Studio Manager at Salem Stained Glass in East Bend, North Carolina, and I still keep up with my personal work and my own commissions.
This is a self portrait (officially - "Portrait of the Artist in 1989 with Plaids and a Pencil") I did a long time ago. Some say it does not look like me, but then the drawing was from 1989... and it's more a "self caricature" than a self portrait.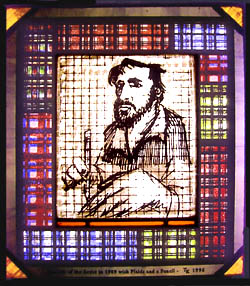 My goal for this blog is to make at least one entry per week - more if the routine kicks in. Enjoy the ride.
Posted by Tom at
01:57 PM