Sylvia Nicolas in the news
Stained Glass Artist Sylvia Nicolas is in the news these days with a magazine cover story called The Sculpting of a Life, in the Parable Magazine, a magazine of the Diocese of Manchester, New Hampshire.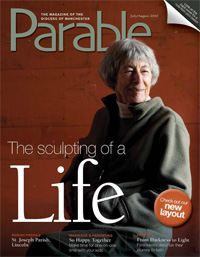 She also has an upcoming exhibit of her works at Providence College
Providence College called The World of Sylvia Nicolas - Painting, Sculpture, Stained Glass. The exhibition runs September 8th through October 22nd, 2010.
Posted by Tom at
08:18 AM
Judith Schaechter - Photoshop and I
Judith Schaechter's awesome presentation at the 2010 American Glass Guild Conference. This was part of the panel discussion that I arranged with Judith, J Kenneth Leap and myself. The whole thing went very well, but Judith's presentation was the highlight. So here it is -
I did a brief presentation as well, and I might adapt that one for video as well. Unfortunately, my voice was too low in the recording so I'd have to redo the sound as well as transfer the powerpoint to video. I will probably do it but it will take more time.
Posted by Tom at
10:59 AM