Painted Window Blog
A new stained glass blog is in town, by J. Kenneth Leap. It's called The Painted Window, and in just the last two days Ken has posted no less than 20 entries, all on his tests with silverstains. He's been doing very meticulous tests and getting some unexpected results. I have seen some of these results already, as I was at the recent AGG conference in Detroit, where he was happily showing off samples of his tests, like this set of samples using Reusche silver stains on a wide variety of glasses. This is far and away the most comprehensive set of silver stain test samples I've ever seen, and every studio I've worked at has done some type of silver stain tests.
Click to see a bigger image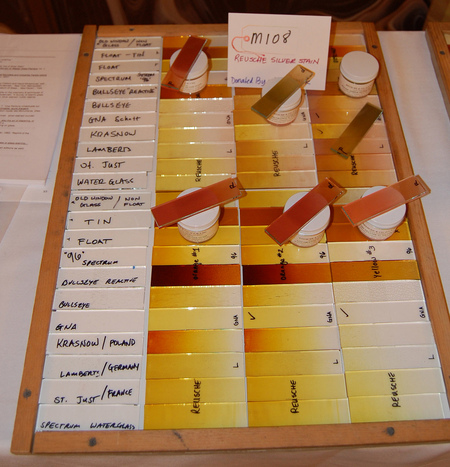 Ken, thanks for being so generous with the results of your tests, an incredibly useful resource. I hope it sparks a silver stain renaissance, all thanks to you.

Posted by Tom at
08:07 PM