Ponyo, Miyazaki and the Stained Glass of the Studio Ghibli Museum
I saw the new movie 'Ponyo' last weekend with my daughter. We both loved it.
It's a strange and complicated story, based very loosely on The Little Mermaid, about a goldfish who wants to be a human girl. I've dubbed it the "Citizen Kane of Transforming Goldfish movies". The way I see it, the movie is a weird and delightful story about being a very young child. Rarely have I seen any movie capture the mad, exasperating, wonderful and frightening energy of small children before.
Aside from the fact that the director, Hayao Miyazaki, presents an aesthetic that any artist of any medium would appreciate, there is a specific stained glass connection within the world of his studio, Studio Ghibli. It comes through the Studio Ghibli Museum, which is located just west of Tokyo in Japan. Designed by Miyazaki himself, the building features stained glass throughout, depicting characters from Miyazaki films. The translations are only okay, in my opinion, as they are just the characters without the settings, and the linework is neither as precise nor as rich as in the movies. Still, it is nice to see stained glass in the museum at all.
This is a video tour of the Studio Ghibli Museum, giving a good overview of the building itself, but with only glimpses of the stained glass. Japanese, with English subtitles.

One of the stained glass windows in the Studio Ghibli Museum-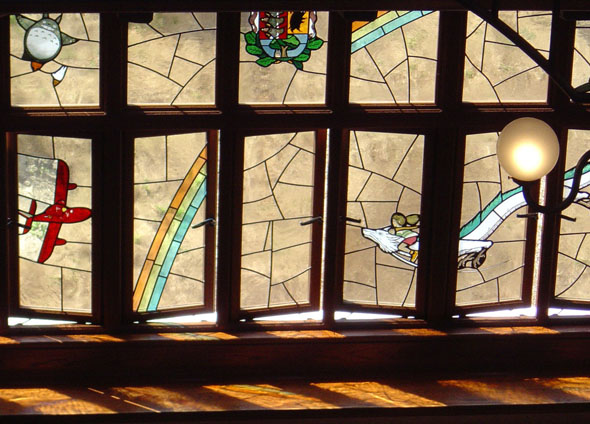 via flickrite Jonathan O'Donnell
and a detail showing 2 characters, Chihiro/Sen and Haku (in dragon form), from Spirited Away, one of my 2 favorite Miyazaki films.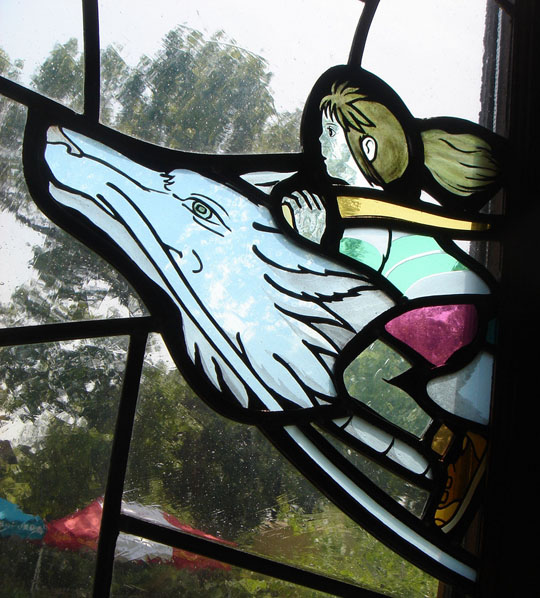 Image from Spirited Away from flickrite Archangeli
To demonstrate why the stained glass doesn't quite match the detail or exuberance of the movie, just look at this trailer for Spirited Away. Do a freeze frame right before the end, at 2:26, and compare it to the stained glass.

There are more and better stained glass windows in the museum, but not many high quality photos of them show up on the internet as the museum has a no photography inside policy. Still, there are a good number of decent shots searching for Studio Ghibli stained glass on Flickr. It's where I saw this photo of stained glass, based on my other favorite Miyazaki movie - My Neighbor Totoro.

Posted by Tom at
10:22 PM