Siegfried Reinhardt at Second Baptist
On some of SG forums recently, Barbara Krueger posted some links related to the Sanctuary of the Beatitudes windows at Second Baptist Church, in St. Louis, MO. She also posted a link to my flickrset - Siegfried Reinhardt Stained Glass - Second Baptist. It reminded me that I've been sitting on these images without doing a real blog post about it, for something like 4 years. So, I'll just post it briefly, and now.
What is it that I like about these? The scale of the figures is what strikes me first. The Christ figure is a good forty feet high (okay, at least 30, I'll check on that one). Many of the feet in the figures are a good three feet wide. In general, there is a much greater sense of caricature than is usual in stained glass and I like that.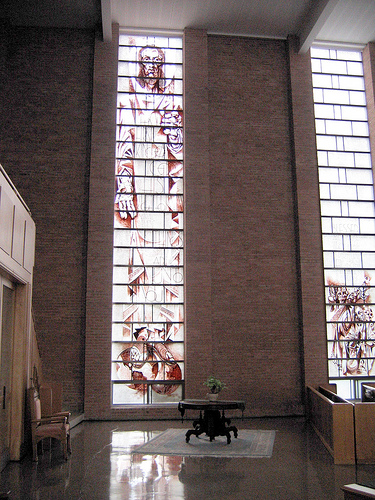 The glass is all clear seedy antique, no muted tints, all clear and much of it is extra seedy. One of the aspects I like most, which you have to look carefully to see in the photos, is how Reinhardt used cool grey areas of paint in the background and contrasted it in the figures with a red/brown warm paint, so it's not entirely monochromatic.

feet from the Fourth Beatitude - 'Blessed are they which do hunger and thirst after righteousness for they shall be filled'.
Siegfried Reinhardt passed away in 1984, but is still a well known artist in St. Louis. He's best known for the St. Louis Lambert Airport Murals depicting the history of aviation (scroll a little more than halfway down the page). In my opinion, it's in a more conservative style, compared to the Second Baptist windows. I like the Second Baptist style better, personally.
I hope to be adding onto this post in the next few days some of the close-up photos I took of the aviation mural, if they haven't gotten lost in the shuffle when I moved into my new studio 2½ years ago.
In the meantime, check out this LIFE magazine photo shoot of Reinhardt, from 1952 when Reinhardt was 26. It's the whole photo shoot, a full 75 images by photographer Howard Sochurek. I am curious to know what kind of article, if any, went with the pictures.

Posted by Tom at
02:10 PM