GAS 2006 day by day
General impressions -
This was my first time attending a conference of the Glass Art Society (commonly referred to as GAS). I did some activities around the 1996 GAS conference in Boston, but I didn't actually attend the conference itself. I dove into this conference in St. Louis seeing that I was accepted both as a demonstrating artist and as the one to organize the pre-conference tour, in this case a stained glass tour of modern and contemporary stained glass in the St. Louis area. The St. Louis conference was also unusual in having three flat glass demos - by myself, Ken Leap and John Reyntiens.
'Stained glass' has always taken a back seat in the Glass Art Society, and there are many misconceptions about and prejudices against SG at GAS. It is, in fact, best to not use the term 'stained glass' while at a GAS conference - too many preconceived notions about stained glass gives it a bad aura here. Better to use terms like 'flat glass' or 'architectural glass'.
Hot glass artists and stained glass artists work in very different settings and have a very different professional language, so perhaps it's not surprising that the two have difficulty communicating and appreciating each other. It's too bad, since they do have much to offer each other, in my opinion.
Hot glass is 'hot' right now and stained glass is not. That much is clear, at least amongst the GAS crowd. I guess my mission is one of revival, both in terms of convincing the GAS types that there is good 'stained glass' being made in the world and convincing stained glass artists to persevere, be open-minded and concentrate on doing even better work.
So, despite my still feeling a bit of an outsider at the Glass Art Society, I would like to stick with it and go to more of the conferences. It may all depend on GAS really trying to include the 'flat glass' related items in their future conferences. That, in many ways, is in the hands of the 'stained glass' community, who have to come up with the proposals and present them in a compelling and professional manner.
So, here are my rather lengthy day by day activities, thoughts, impressions and pictures of GAS 2006 - in the extended entry ->
My schedule for the week was pretty full.
Tuesday June 13th - Teaching a preconference SG Design workshop
Wednesday June14th - Conducting the Stained Glass Tour
Friday, June 16th - Setting up the Stained Glass Exquisite Corpse for the Live Auction
Saturday, June 17th - my own Demo
Sunday, June 18th - Screenprinting for SG Workshop
On top of this, I wanted to make sure and see all the other flat glass demos as well as the talk by Karen Mulder on 20th century German Glass.
I was also trying to assist a company called Xpresscreen in the 'tech display' area. They sell the thermal screen making machines that are associated with the technology I've used to do my screenprinting on glass. 'Tech Display' turned out to be one of the most interesting aspects of the GAS conference for me. I guess I'm something of a Glass Tech junkie. I just like looking at all the tools and knowing what they're used for.
GAS Conference Week - day 1
Tuesday June 13
Pre Conference Stained Glass Computer Design Workshop
at the Thomas Dunn Learning Center St. Louis
Intense day teaching on the use of Adobe Illustrator for the purpose of designing stained glass windows. I fear the beginners got a bit overwhelmed, but this class went well nonetheless. I think they all got their fair share of information out of it.
For the class I set up two galleries of Illustrator-based designs that I've worked on over the years - one of drawings completed while employed at Salem Stained Glass, and another featuring designs I have done on my own. Not all of these are my designs in the sense that I thought up the design or even did the initial sketch (i.e. all but one of the Salem SG designs were pre-existing designs that I translated into Illustrator).
GAS Conference Week - day 2
Wednesday June 14th, 2006
Stained Glass Tour
see posting from Wednesday June 14th.
additional thoughts on the stained glass tour sites -
I'm still fascinated by the social justice themes in the windows at St. Marks Episcopal. I've been thinking that this is the rare case where the patron, that is the Rector at the time of the commisison, had more to do with the unique success of the windows than did the designer or the fabricator. I know of no other Harmon-designed or Frei-fabricated windows that engage with these kinds of social justice themes. I suspect that came entirely from the Rector who commissioned the work.
Rodney Winfield windows at the Sheldon Concert Hall. I felt a lot of resistance to these windows when I first saw them, but in seeing them up close and more in depth, I can at least appreciate what was being attempted. The windows all feature the same leading pattern, with different colors and painting treatments on each window, making them look strikingly different. Hence the name - 'Theme and Variations'. A nice idea.
It was nice to fit in the William Cochran/Derix window at the Regional Arts Commission Building, especially since Ken Leap has been working on 'float glass painting' projects with Derix Studios and could give a unique insight into how the window was made. Barbara Derix was at the conference, but she did not get in until the day after the tour.
GAS conference day 3 -
Thursday June 15th, 2006
first official conference day
Third Degree Glass Factory
Your average GAS conference is quite big for an artist conference (1,200 or so people) and does attract a wide variety of people from all over the world. GAS has pushed the international aspect hard in the last ten years and the results are impressive.
This was a typical set up for the larger demonstrations - in this case for one of the flameworking demonstrations.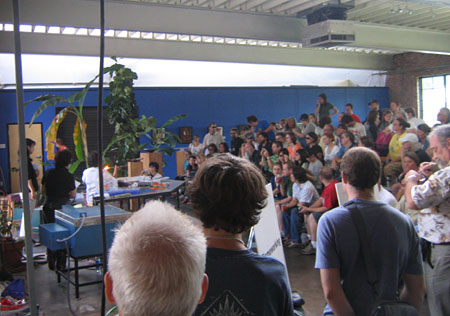 The flat glass area was comparatively small, but was sufficient.
AM - attended the John Reyntiens Demo. He demonstrated painting on paper and the techniques he uses to loosen up the painting process and then how this is translated to glass painting. The most interesting thing to see was the wax resist technique, very reminiscent of the work his father, the legendary Patrick Reyntiens, did with John Piper.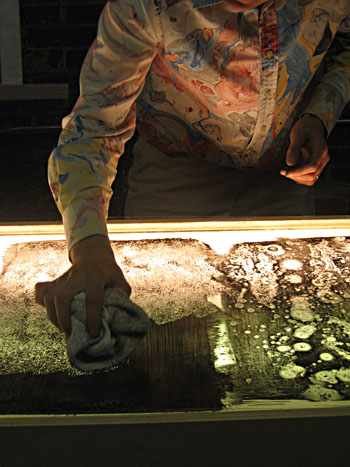 He also showed something of how to do gilding on glass.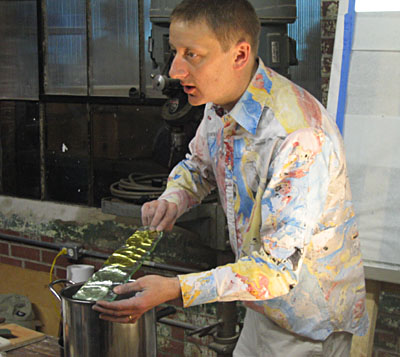 Interesting, even if, all in all, his demo came off as a bit disorganized.
Ducked out of the late morning and early afternoon scheduled conference activities to take Ken Leap around St. Louis and especially to show him a church that I couldn't manage to fit in to the official stained slass tour. One of particular interest to a glass painter - the Beatitudes Windows at Second Baptist Church, designed and painted by Siegfried Reinhardt. Here is a sample -
This doesn't really give the sense of scale. The feet here are something like 4-5 feet high.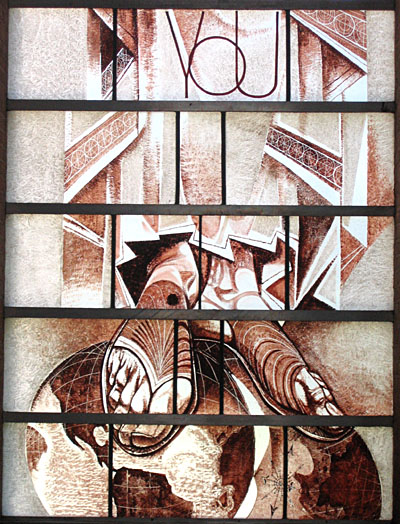 Ken and I hung out for a few more hours and talked stained glass talk non-stop.
GAS Conference Week - day 4
Friday June 16th, 2006
second official conference day
AM - Demo - J. Kenneth Leap
much more organized and efficient in his presentation
First he gave a brief history/explanation of glass painting.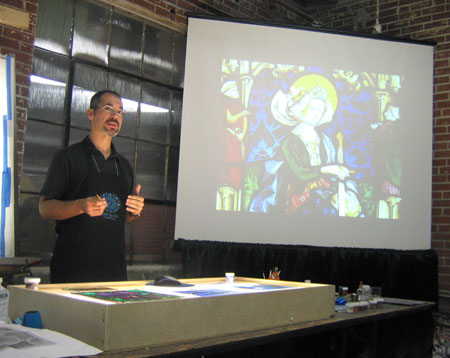 Then he showed the basics of mixing paint and explained/demonstrated the concept of 'trace' and 'matt'.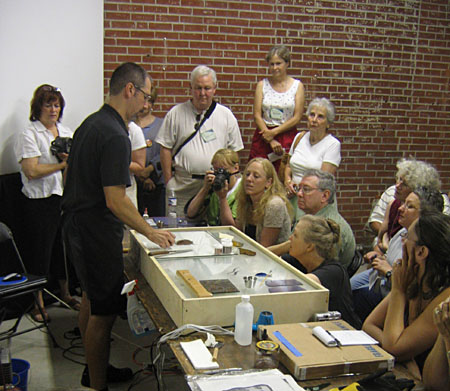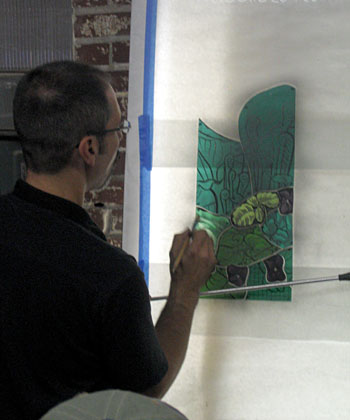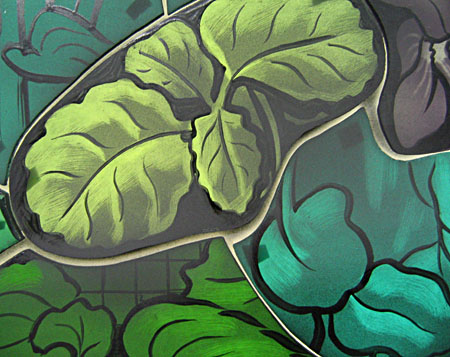 He also demonstrated his use of airbrush in the matting process. Interesting and informative all around. There will be more on Ken's work in future postings...
PM - In the afternoon, I set up the Stained Glass Exquisite Corpse for the Live Auction.
Gallery Hop - Stopped at Salt of the Earth to say hello to Robin Lynch, who worked so hard to put the gallery hop together. Met the glass artist Orfeo Quagliatia, son of another legendary stained glass artist, Narcissus Quagliata.
That was it for me and the gallery hop as I needed to set up for my demo on early Saturday morning. Third Degree was functioning as the hub for transport that evening as well as showing some curious off the cuff demonstrations by flameworkers demonstrating 'ancient flameworking techniques' like the 'hot volcano' method and the 'oil lamp and blower' technique... very interesting stuff and just the kind of thing that makes these conferences especially worthwhile.
GAS Conference Week - day 5
Saturday June 17th, 2006
third and last official conference day
My demo - I was very nervous, but it went well.
I demonstrated some of the methods I've used over the years to make my work more original. That is, to distinguish it from panels that just use factory-made glass and do nothing to it to make it unique. The methods I discussed included screenprinting/handpainting, acid etching, sandblasting/firepolishing, and engraving/firepolishing. In terms of actual demonstration, I first demonstrated the method I use for engraving flashed glass for inclusion in panels. Here I am engraving some small pieces of flashed glass on an ordinary glass router/grinder.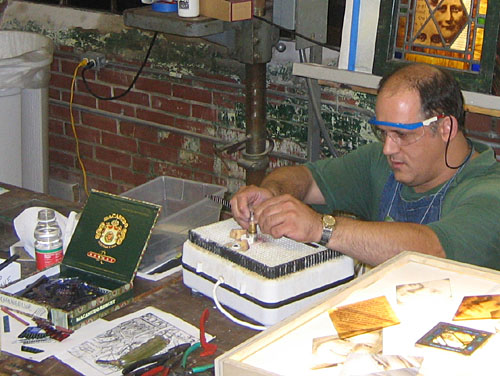 These are some pieces after engraving and before fire polishing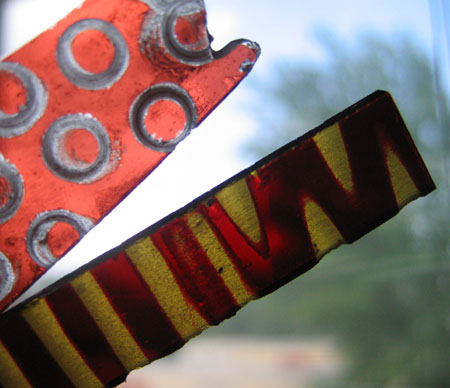 These are different pieces after fire polishing. It's difficult to see in this photo, but the glassy sparkle returns to the glass after being heated in the kiln to the equivalent of a high paint fire.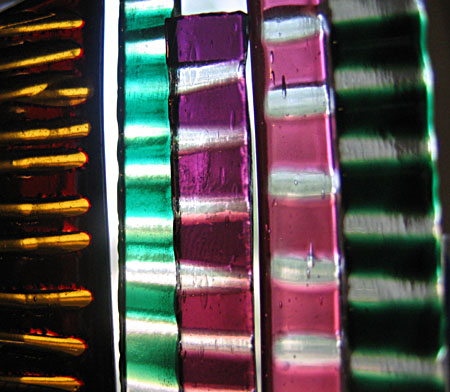 I will make these small engraved pieces when I have spare time and store them in a cigar box. When I incorporate them in a panel, I always include them in an improvisatory manner. That is, I do not draw out the design on paper. Instead, I will see how the pieces fit in best and fill the gaps. Sometimes the engraved pieces are the main focus, like in the panel Engraved, and sometimes the pieces are used as a border or frame for something else, such as the elaborate frame for the Sean Michael Portrait.
I then showed my method for screenprinting the faces in such panels as Four Women, which you can see on display in the background.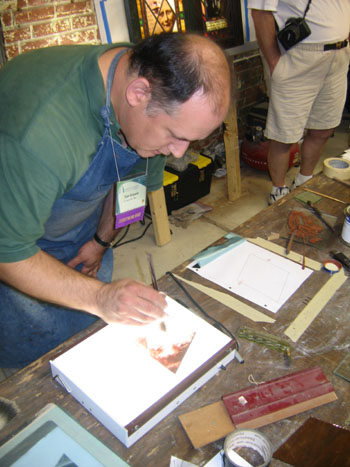 Here are some of the screened pieces on the light table, before firing. This being a process of 'controlled accident', I always do a few extra and discard the less usable ones. If I end up with more than one 'good one', I'll keep it as a sample or use it in another panel.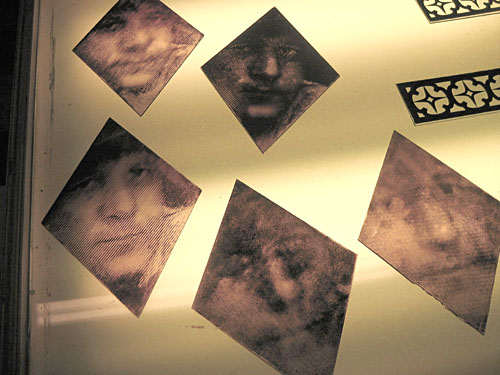 It turns out that at the end I only had a few minutes to describe my own experiments with hot glass that I've been doing for the past few months.
I showed the panel that I finished using the pressed glass that I made over the past few months at Third Degree Glass Factory here in St. Louis. With the help of Jessica Cope, I've been working with carving graphite and then pressing hot glass to create pieces of glass to put into stained glass panels.
The finished panel features a short poem by William Carlos Williams, perhaps my favorite of his. The style is certainly unusual for me, though thematically it fits in with the Quotation series that I've been doing for more than 10 years now.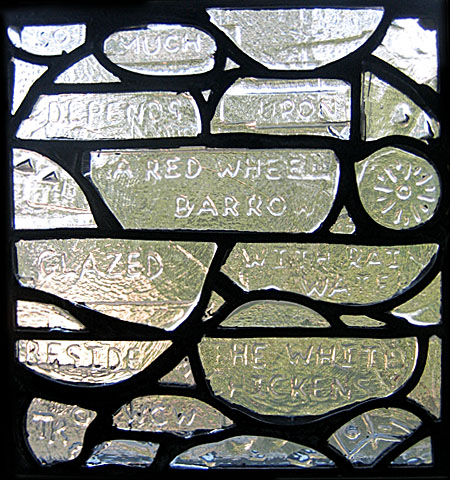 In the afternoon, I went to hear the talk by Karen Mulder about 'Neues Glas' artists in Germany, post WW2. She focused on names familiar to all who've worked in stained glass over the past 20-30 years - Schaffrath, Meisterman, Poensgen and expecially Schreiter. It's curious that there was no mention of Stockhausen, whose work doesn't fit in easily with the "Neues Glas" German artists, since his work is representational.
The talk made me think how much I miss academic language. It is so wonderfully absurd sometimes. I can't ever take a word like 'architectonic' seriously, but I love hearing it nonetheless. Don't get me started...
Looked in at the Live Auction to see what would happen to the SG Exquiste Corpse. It was fun to see the 'corpse' assembled and to have a chance to talk with people about it. GAS participants have a curiously hard time in conceptualizing the idea of collaborative projects. I'm still mulling that one over. I think it has something to do with there being so much focus on the individual artistic temperament, that the notion of an equal and collaborative art project is something hard to fathom. As I say, curious.
The SG Exquisite Corpse ended up being purchased by a glass artist from Michigan, a flameworker who used to work in stained glass. I helped disassemble it for him and his wife. Nice people. I know they will give it a good home and a place of honor.
Closing night party - at the City Museum.
Simply put, if you are an artist and you visit St. Louis, go to the City Museum. It is almost impossible to describe, as I've not seen anything quite like it anywhere else. Part playground, part cultural history museum, part aquarium, part giant sculpture, part strange urban relic, and totally fun and amazing.
GAS Conference Week - day 6
Sunday June 18th, 2006
post conference workshop
Screenprinting for Stained Glass
at the Third Degree Glass Factory
A workshop with the Xpresscreen machine to show the thermal screen printing process and to demonstrate in greater detail the different methods of screenprinting on glass, both in terms of the screenprint/handbrush method and the more typical screenprinting for creating multiple copies. I have plans to expand this workshop into a full three or four day workshop that would include the computer work, the processing of the screens, the screening of the paint, firing and subsequent matt or color work. More as this develops...
and then, Sunday night, it was over.
Interesting to have a week which can manage to be totally invigorating and totally exhausting at the same time.
With the SGAA conference ending just a week after the GAS conference and the AGG conference coming up in July, my brain is inundated with thoughts (and some suggestions) regarding glass art associations and conferences. I'll try to tame those thoughts into coherent english in the next week or so and post them.
Posted by Tom at
08:10 AM