Stained Glass Book Bargains
A quick search for good bargain stained glass books, with the holiday season upon us.
The absolute number one bargain for stained glass books is the aptly named 'Stained Glass', by Lawrence Lee, George Seddon, and Francis Stephens. I did a blog post on Lawrence Lee about a year ago if you want to get a look at the book. Currently, an 'acceptable' copy starts at one penny plus 3.99 for shipping. Almost embarrassing for such a great book. Get several and give them to your employees, students or anyone just starting out in stained glass.
Stained glass from mind to light: An inquiry into the nature of the medium - starting at $5 including shipping, a good price considering the book is over 250 pages! In this you get a look at the design process of the one and only Narcissus Quagliata.
Behind the Scenes of Tiffany Glassmaking: The Nash Notebooks: Including Tiffany Favrile Glass, by Martin Eidelberg - a bit more expensive starting at $17 including shipping but a good look at the glassblowing operation at Tiffany studios.
Jewels For A Crown: The Story of the Chagall Windows or in Alibris, by Miriam Freund, exclusively about the Jerusalem Windows. Miriam Freund was president of Hadassah at the time and was intrumental in Chagall getting the commission, arguably his most renowned.
Stained Glass in the Burrell Collection, by Linda Cannon, is available for about $8 including shipping. A small book, but with a great section on the stained glass techniques.
Chartres Cathedral, by Malcolm B. Miller, the English Guide at Chartres Cathedral. This is a basic guide to the sculpture and stained glass at Chartres Cathedral. No flashy color but very good, especially when it comes to the layouts showing the narratives to be found in the windows. Starting at $8 including shipping.
Image from Chartres Cathedral showing the diagrams and descriptions. Click to see large image in new window.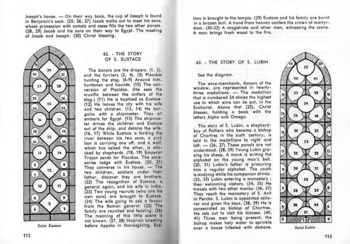 Stained Glass: Art or Anti-Art, by John Piper. This is part of a very highly regarded (but commercially fragmented) series on Design under the name of "Studio Vista", and it was unusual to have a book included on stained glass. This book is a bit of a curiousity, but cetainly worth a look at $6 including shipping.
Stained Glass From Medieval Times to Present: Treasures to be Seen in New York - by James Sturm, and focusing on stained glass to be seen in the New York City area, it is the book I used to plan my tours of stained glass in New York City. At $8 used, a bargain.
New Glass, by Otto Rigan. This can be got for $4 used. This was an important book to me when I was a teenager, and I did a blog post called 'Googling New Glass' some years ago that tried to track down what had become of the participants.
John La Farge, by Henry Adams with others. Considering that this was a $75 dollar book when it came out in 1987, it's a bargain to get a good used copy for $20-25 including shipping.
Stained and Decorative Glass, by Elizabeth Morris, mostly covers English stained glass - starting at $5, including shipping
Posted by Tom at
11:26 AM