Cupples House Stained Glass
I finally got a chance to visit the Samuel Cupples house, on the campus of St. Louis University, St. Louis, MO. "Finally", because their hours tend to be a bit unusual, so it's been difficult before now. As it was, I visited on a Sunday and they were only open because of a special event called "Rooms in Bloom". Whatever the reason it was, all in all, a very pleasant visit.
Richardsonian Romanesque design, Thomas Annan Architect, circa 1889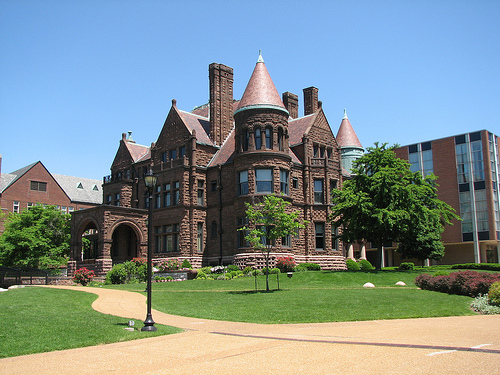 I posted 75 photos from the visit as a VitreosityPictures Flickrset of Samuel Cupples Stained Glass.
Decorative Drawing Room Window, circa 1889.
These were my favorites - very detailed decorative windows, with tiny pieces of glass and string lead throughout. This one looked to be around 18 inches high, with many of the individual glass pieces are no bigger than a fingernail. Great work. There are some 8-10 varied, detailed, decorative windows throughout the house.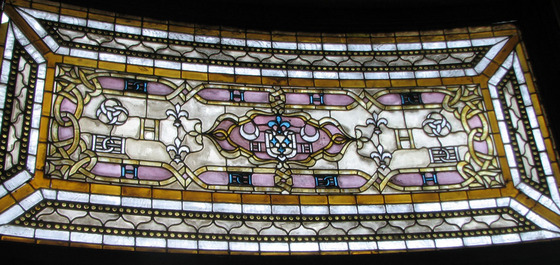 Zodiac Window, 1889
This is the window I had heard of, and which used to be featured prominently on their website (but no longer - wassup?).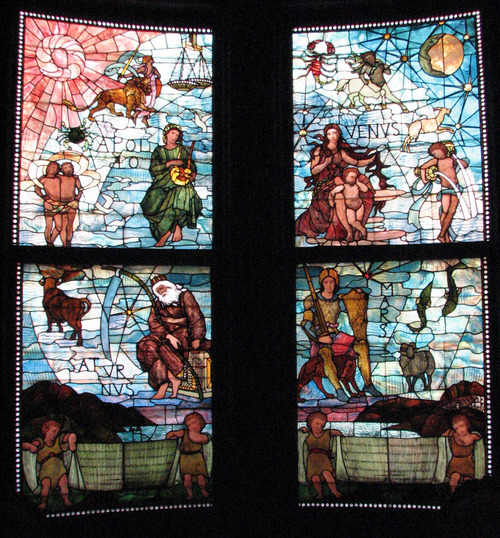 A placard at the museum stated that this is a Tiffany Studios window based on a design by Edward Burne-Jones. My initial response to the Tiffany attribution is skepticism, as the circumstances and the quality of the panel seem a bit wonky.
How exactly did a Burne-Jones design for a 'Four Seasons' design became a stained glass window for the 'Zodiac'? and by Tiffany Studios? and in St. Louis? I'd always assumed, before I saw it in person, that the Zodiac window was done by a good early St. Louis stained glass studio. The design, fabrication and painting seem a bit crude compared to the Tiffany and LaFarge windows I've seen over the years. I've only ever heard of one Tiffany Studio window being designed "based on" a non-Tiffany studio artist - a panel from 1894 based on a print by Toulouse Lautrec, and the style and circumstances of the commission simply don't match, IMO.
On the other hand, in terms of attribution, the decorative windows throughout the rest of the Cupples House are first rate technically, so it certainly does not rule out the Tiffany Studio.
more on the Zodiac window plus a surprise or 2 below the post...
Zodiac Window deconstructed
The design for the Zodiac window is based on a 'Four Seasons' design by Edward Burne-Jones, though it is not a straightforward translation, one to one. It turns out to be a pretty convoluted move from design to window.
These are images of the original 'Four Seasons' design from the book, Sir Edward Burne-Jones, A Record and Review, by Malcolm Bell. It's not even stated in the book what the design is for - a mosaic? a tapestry? a stained glass window?
from left to right - Spring, Summer, Autumn, Winter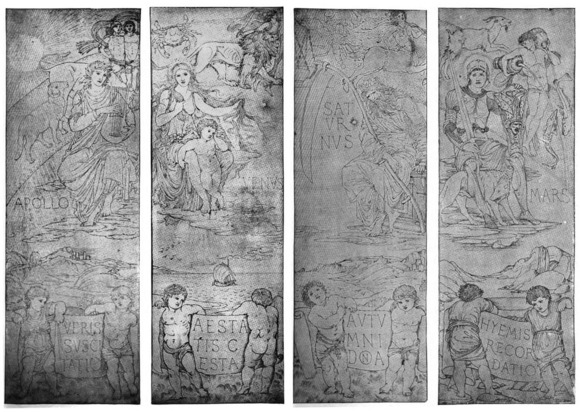 It's a bit of a convoluted translation. This is how the Burne-Jones figures and symbols are reconfigured into the Zodiac. On top of this, a number of symbols were added that were not in the original Burne-Jones design (Ram, fish, Moon with female figure). Additionally, the 4 "Four Seasons" scrolls with Latin text at the bottom are replaced by 2 scrolls with a poem by St. Louis based poet Eugene Field.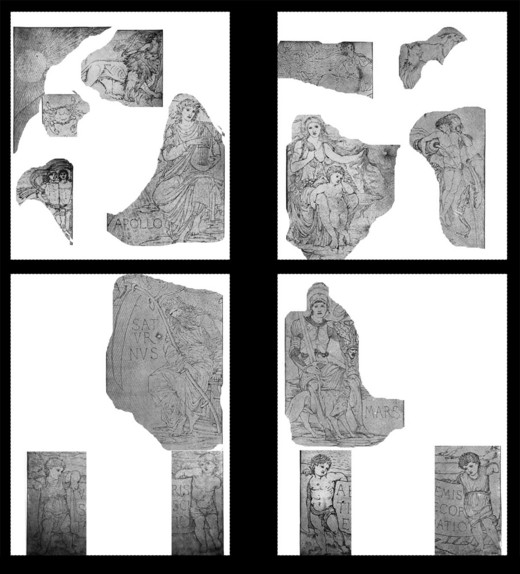 This shows what pieces went where and gives an idea of the patchwork nature of the translation -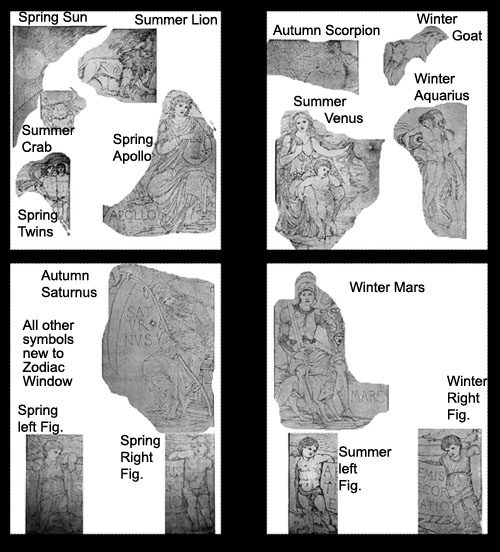 This process is not something I've seen in any other Tiffany Studios window.
Still, more evidence needed.
Whatever the attribution, there is much to like about this window. I especially like this bit of painting, where the white of the glass represents the beard and the paint represents the flesh. No matter the technique, it's a beautifully rendered expression of wearied age.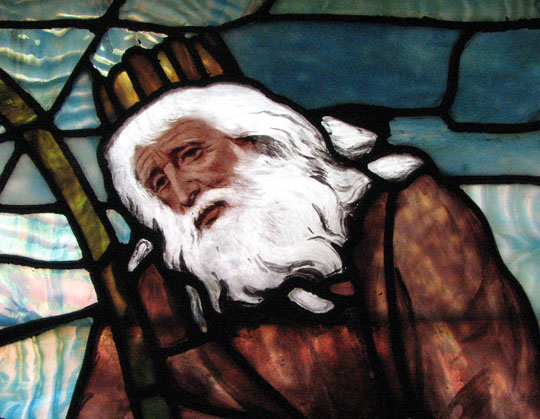 Mosaic Panels
These are a curious set of panels hanging in some windows on the third floor. There were no placards to elaborate. It's possible that they are a part of the glassware collection on the third floor and not original to the house. It's clear from the framing that they were once installed windows, but with no information as to where they were previously installed, or in what context.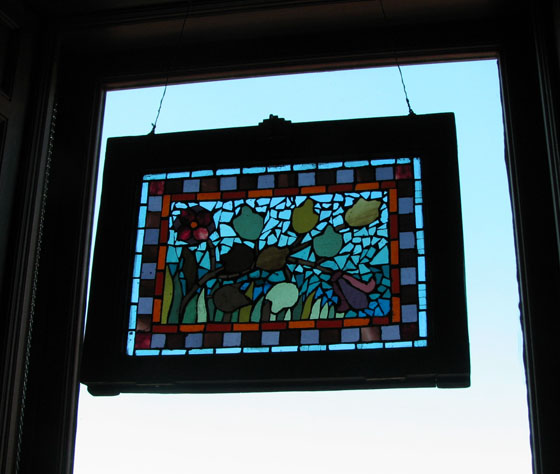 The fabrication technique is also unusual, in that it's done in a pure mosaic style, with pieces laid out and spaces filled in with molten metal or grout, with no lead came or copper foil used to create a channel for the glass to rest in.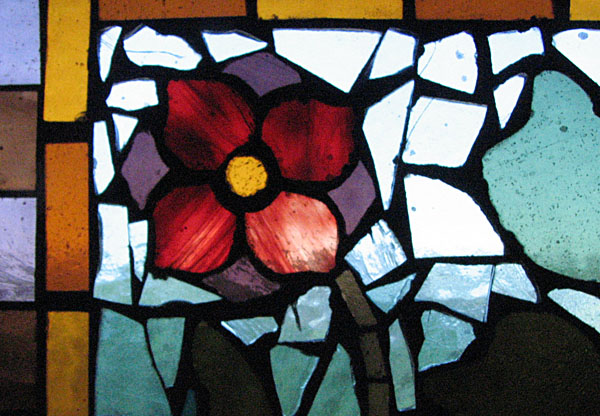 There is no backing plate and a number of the panels are buckling at least a half inch out of plane, so the matrix is likely metal and not any kind of ceramic-style grout. They seem to be done with a similar technique as the Belcher Mosaic process (1884 patent). Closer examination would be needed.
Again, check out the VitreosityPictures Flickrset of Samuel Cupples Stained Glass for more images.

Posted by Tom at
11:33 PM