Sarah Wyman Whitman on the Web
I've recently come across some references on the web to Boston-based stained glass artist Sarah Wyman Whitman (1842-1904). She led a varied life, as she was also a prominent book designer, a friend of literary figures, a passionate supporter of women's education and a prominent fixture of gilded-age era Boston society.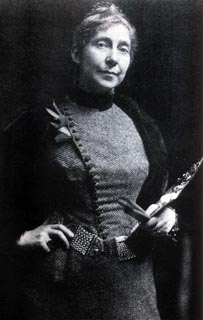 Sarah Wyman Whitman
Start with this article in Harvard Magazine by Betty Smith, from Jan/Feb 2008 - Sarah Wyman Whitman: Brief life of a determined artist: 1842-1904. Betty Smith is the preeminent Sarah Whitman scholar.
then proceed to more pictures and links...
General articles on Sarah Whitman
As well as the Betty Smith article, I came across a few other general articles or blog entries on Sarah Whitman. One on the website called handsome books. Another as a nice blog post on the blog Japonisme, with lots of links. And another blog post on Words Simple as Grass, focusing on her friendship with Sarah Orne Jewett.
Book Bindings
Though I first heard of her as a stained glass artist, she is probably best known as a book designer. For the book covers she developed a uniquely minimalist art nouveau style.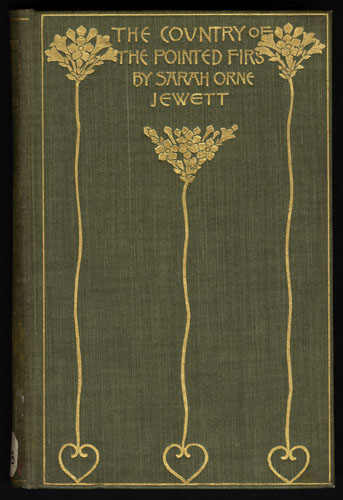 The Boston Public Library has put up an amazing Flickrset of Sarah Wyman Whitman's Book Bindings. Over 350 images!
There is another collection of her book covers in Publishers' Bindings Online.
Stained Glass - Memorial Hall
Her stained glass work is terribly under-represented on the web. Nothing but the sketchiest of information and the quality of the photos is remarkably poor even for her best known work. And, of course, there is nothing about her working methods or her studio.
Whitman's stained glass tended to be in the mold of John LaFarge. That certainly holds true for what may be her best known work - the windows she did for Memorial Hall, Harvard University, Cambridge, Mass.
Large 'transept' rose window, called the Brimmer window - 1898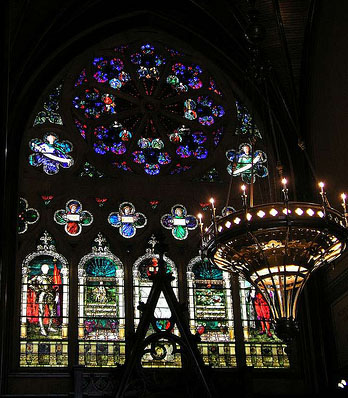 Memorial hall was built as a memorial to Harvard students who were killed in the American Civil War.
Honor and Peace, Annenberg Hall, Harvard, 1900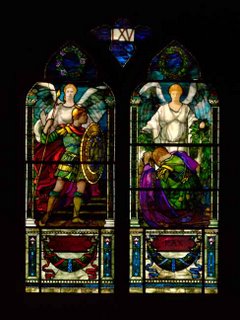 Annenberg Hall is currently the freshman dining hall, so access to this part of the building is limited.
Stained Glass - Trinity Church
The Memorial Hall windows might be considered her 'grand style'. She also has another style in stained glass, related more to the book design work. A lighter style, again, a kind of minimalist art nouveau. Often featuring a lattice work with repeated accents of jewels and perhaps a centerpiece with a wreath or a shield.
This style of work is more difficult to find, and almost non-existent on the web. The only example I could find are these exterior shots of the windows she did for Trinity Church in Boston.
A wreath design at Trinity church, Boston - formally the library, now the gift shop.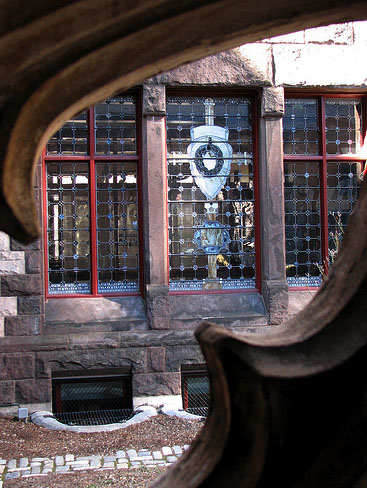 This one is on the opposite side. Again, I could find no interior shots.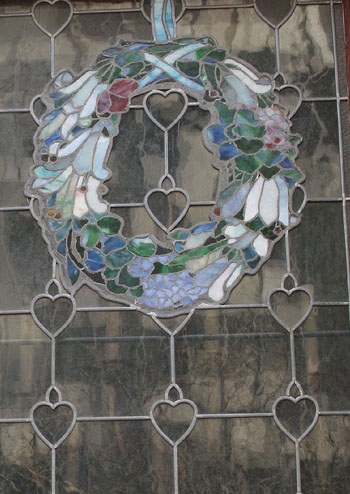 Skimming through the BPL 'book binding' flickrset, I noticed that there must be at least 30-40 of the book cover designs that feature some sort of wreath motif.
For example - Leicester Wreath Book Cover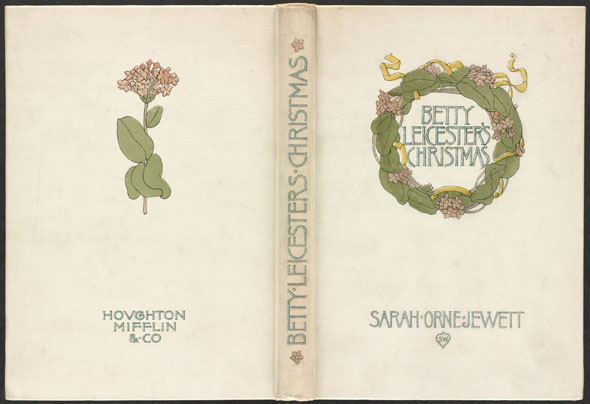 Article in Handicraft
The only writing I know of that Whitman did on stained glass was in an article in the magazine Handicraft, published in November of 1903 by the Society of Arts & Crafts, Boston - Googlebooks has the compilation book published in 1904 - Handicraft compilation, 1904.
Her article is a rebuttal to an article by Harry Goodhue, who wrote an article critical of "American Glass" - what we now generally refer to as opalescent style glass, typified by Tiffany or LaFarge or Sarah Whitman. Goodhue makes the argument against opalescent glass and Whitman makes the argument for it.
I downloaded the pdf of the Handicraft compilation and and took out everything but these 2 stained glass articles - It will open in a new window as a pdf - Handicraft 1903 Stained Glass articles.
I've known of this exchange for many years now and consider it a rare and fascinating glimpse into the stained glass world in Boston at the very beginning of the 20th century, when the style was just starting to change from Tiffany/LaFarge Opalescent Era stained glass to the American varient of Gothic revival as typified by Connick Studio, or in this case, Harry Goodhue.
My opinion after reading the two articles? For what it's worth, I think that while Goodhue makes a few good technical points, my sympathies are more with Whitman. Her view just seems more open-minded.
Read the two together and decide for yourself.
Letters
Sarah Whitman was well loved in Boston society. She was also a strong advocate for women's education and helped found women's educational institutions. Hence, there is a Sarah Whitman room at Radcliffe College.
She was well-loved enough that her friends published a book of her letters that was published in 1907, just three years after her death. The book is in its entirety on Googlebooks, which is especially nice since you can search for a given word, like 'glass', and it will give you every reference to that word. Pretty impressive.
Posted by Tom at
08:44 AM